It seems like admitting defeat to mention it, but we cannot deny the fact that summer is slowly drawing its last breaths before it plunges into hibernation for the next eight to ten months.
Still, we can't really complain as, august aside, we've had a pretty good summer (for British standards, anyway). The culinary highlights of this fairer part of the year have mainly been sea-food orientated for me: from a delicious smoked salmon wrap on the Dutch island of Texel, to the legendary Anstruther fish and chips on the Fife coast in Scotland; from raw herring and onion in the Hague, to a sublime (if not slightly overpriced) white crab and chilli linguine in Porthleven.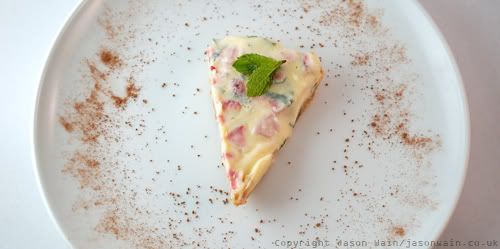 Anyway, reminiscing aside, this recipe really comes at the wrong time of year. Really I should have waited until late spring/early summer to post it, but unfortunately I'm not that patient. So instead I'm labelling this as a last hurrah for summer, a 'not going down without a fight' type attitude to the last dregs of the warmer part of the year. (Looking out of the window, however, that attitude does admittedly seem a little futile).
The recipe is an almost-success. I'd hope that once placed in the fridge it'd set, but it didn't. As a result you have to place it into the freezer and then remove about 15 -25mins before consumption. Still, it taught me an important lesson about the solidity of chocolate and it tastes good to boot, so it was worth it in the end!!
White Chocolate, Strawberry and Mint Truffle Cake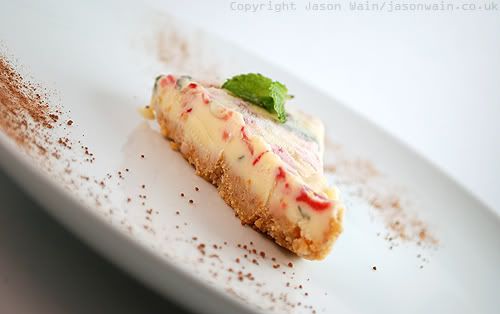 Serves: 8 (or more, see below)
Price: 44p per slice
Time: About an hour, if you're as slow as me
Ingredients:
140g white chocolate
3 large fresh strawberries
1 small handful of fresh mint (about 5g)
8 digestive biscuits
115ml double cream
55g unsalted butter
Method
Firstly, blitz the digestives in a blender and melt 30g of the butter. Mix the digestives and butter to create a 'wet sand'. Line an 18cm cake tin with grease proof paper. Empty the digestives and butter into the tin and smooth over the bottom to create your base. Place in the fridge.

Next, chop your strawberries into small pieces. The shape doesn't really matter and they don't have to be uniform in size. Now do the same with your mint. A good technique for chopping the mint leaves into small strips is to pile 3-5 on top of each other, and then roll them up (as if rolling a minty cigarette). Then simply chop the roll thinly.

Next, break up the chocolate and put it into a mixing bowl. Add the remaining 25g of butter. Pour the cream into a sauce pan and put on a medium heat. It should boil quite quickly.

Once boiled, pour the cream over the chocolate and butter. Mix gently (try to avoid creating bubbles) until it all becomes a yellowish gloop (it doesn't look very appetising at this stage, but taste a bit and you'll change your mind!). Now simply mix in the strawberries and mint.

Remove the base from the fridge and pour the mixture on top. Now place in the freezer to set. Remove about 15-25mins prior to eating.





Two further brief notes about this:

- One, it is really rather rich, so you won't need a large portion as a dessert.

- Secondly, because of this richness you can cut it into small squares or circles or slices and serve as a bite with tea or coffee.