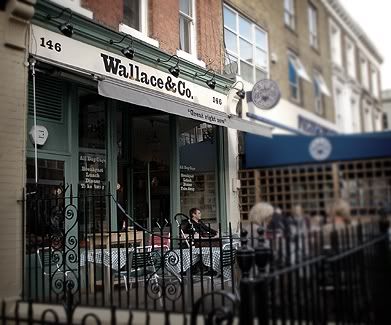 It is funny how things go sometimes. I first read about Greg Wallace's restaurant and deli in the back page of the MasterChef Cookbook via Amazon's 'look inside!' preview. After looking it up on Google maps, I was surprised to find it was located at my regular haunt: Putney. It was only once I actually went to it that I realised I had in fact eaten at the restaurant next door twice, and yet had somehow managed to fail to notice Wallace and Co's presence.
Ironically, considering the food Wallace is normally seen scoffing, the food served at Wallace and Co isn't about fine dining. Instead it focuses on the perhaps more amiable goal of fresh, local and seasonal goods, which is nicely reflected not only in the menu, but in the deli counter and table in the entrance of the restaurant. Serving everything from creamy looking puds through to fresh fish, from tomato jam through to pick 'n mix sweets, Wallace and Co boasts a variety of foods to take home as a souvenir from your visit.
The deli and restaurant is complimented by an airy atmosphere; the interior has a rustic charm that harks of the Kent and Surrey countryside from which much of their produce undoubtedly originates. Sitting inside, it would be (almost) easy to forget that you are in smoky, smutty South London.
Some friends and I had been wanting to go to here for a while, but were in need of an excuse. Happily, that excuse came in the form of a two courses for £10 offer.
For a first course I had a pork terrine with toast and pickles. The toast was, well, toasty and the pickles pickle-y. Nothing special there. The pork terrine, on the other hand was delicious. It tasted fresh, brilliantly seasoned, and moist. The wonderful pork flavour duly dominated.
The main course consisted of a roast chicken breast, leek mash and sage gravy. Normally I would never order a dish like this as it doesn't really sound very exciting; however, out of the three mains on the two for £10 menu, this one appealed to me the most. And when it arrived I certainly was not sorry I had ordered it. The chicken breast was moist and flavourful, the softness of the meat complimented excellently by a crispy skin. The mash potato was creamy by texture and buttery by flavour, and further enhanced by the leeks snuggled away inside it. So mildly delicious was it, that for the first time ever I really enjoyed the flavour of mashed potato as an independent item – no sauces, no salt and pepper, just mash for the sake of mash. Brilliant.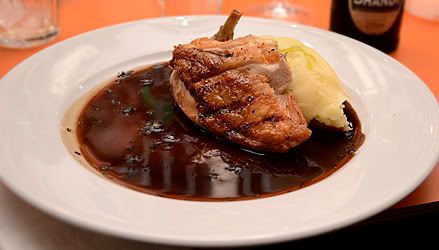 But it got better: possibly the star of the show for me was the sage gravy, a rich, deep and truly wonderfully flavoured gravy, enriched by the sage. This completed the dish and brought it all together perfectly. It may have looked dull on the menu, but it certainly didn't taste dull on the palate.
For a dessert I decided to go for a traditionally British Bread and Butter pudding with Bird's Custard. The pudding itself was good, though quite eggy in texture and not immensely full of flavour – though that was only a minor factor. The custard was simply delicious, and together with the Bread and Butter pudding it rounded off the meal in a tasty and wholesome manner.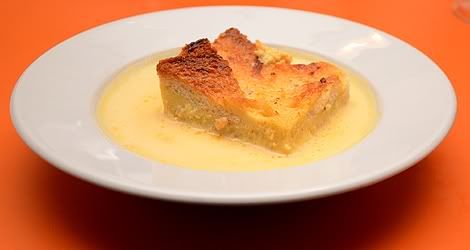 Overall, it was definitely worthwhile; my friends and I certainly enjoyed it. I think it's fair to say that it is very rare to find any independent restaurants in London that will offer a starter and main course for ten pounds. Another feature that was good was the option to pick one main item (say, a slice of quiche, or a chicken and mushroom pie) and two salads of your choice for £8.50, or three salads for £10.50. This kind of flexibility encourages you to try different foods and combinations, and also bodes well for the more fussy eater. The ability to be able to buy from the deli after your meal – even at eleven o'clock at night – is a nice touch too. Finally, to top it all off, the service is worthy of a mention too: consistently polite and helpful staff are a warmly welcomed bonus on top of a good meal, price and atmosphere.
Eaten at Wallace and Co before? Is this a fair review? Let me know!