This recipe for me was all about just experimenting with spices. Essentially all it is is beef, rice and tomato, but it is the seasonings, spices and herb (in the singular!) that elevate this dish from dull toward delightful.
Do not worry if you haven't got all the spices. Don't be afraid to leave one or two out, or swap one you do not have for one you do. I can't promise it will taste the same, but it is good to experiment.
For example, when making the beef and tomato part, I used a teaspoon of dried chilli flakes, ground cumin and paprika powder, but you can substitute those three for curry powder to make it simpler. It may not taste as good without though. Feel free to use either, or even both.
Either way, whatever you decide, just give it a go and see how it turns out. Enjoy!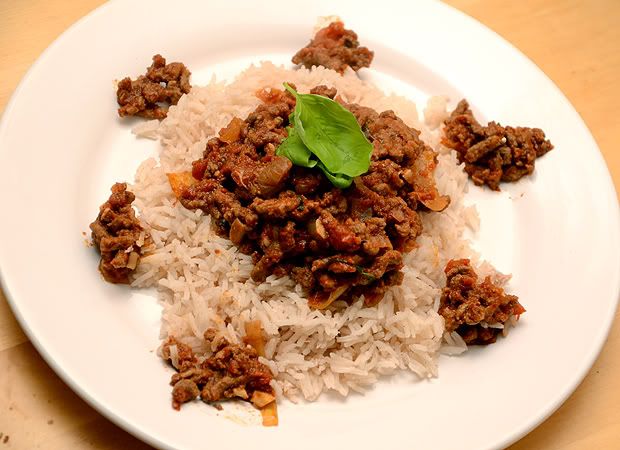 Time: 50mins approx
Price: £1.23 per serving (approx)
Serves: 2
Ingredients
For the Beef and Tomato:
1 onion

2 cloves garlic

olive oil

salt & pepper

1 x 400g pack mince beef

1 x 400g tin chopped tomatoes

1 teaspoon dried chilli flakes

1 teaspooon ground cumin

1 teaspoon paprika powder

A handful of fresh basil leaves
For the Rice:
120g basmati rice

1 heaped teaspoon ground ginger

1 heaped teaspoon ground cinnamon

3 heaped teaspoons desiccated coconut

a dribble of vanilla essence

a light sprinkling (1 teaspoon max) caster sugar
Method
Peel and chop the onion and garlic cloves. Wash the basil leaves.

Put a big sauce pan or wok on a medium heat. Add a lug of olive oil, then add the onion and gently fry for 10-15 minutes.

After 5 minutes, add the garlic.

Once the onions have softened (after the 10-15 minutes), add the mince beef and turn the heat up a little.

When the beef is all browned through, carefully drain as much of the fat as possible.

Meanwhile, boil a kettle and put a sauce pan for the rice on a high heat.

Add the chopped tomatoes, curry and/or chilli powder and about two thirds of the basil leaves to the mince beef.

Bring to the boil and reduce to a simmer. Add salt and pepper to taste.

Once the kettle has boiled add it to the rice saucepan where it should continue to boil. Add a little salt to the water.

After rinsing the rice in a sieve under cold water for a minute, add it with the ginger and cinnamon to the boiling water. If using, add the coconut and vanilla as well.

Cook the rice according to packet instructions. Once cooked, drain and mix the caster sugar in.

Once the tomato and beef mixture has been simmering for 10-15 minutes, divide the rice between the plates and top with the beef and tomato mixture. Sprinkle the remaining basil leaves over the top. Enjoy!
If you try it, do let me know how you get on!