A P/review of the book & a lesson on learning to love the French.
To say that the English and the French have had an interesting relationship over the years is somewhat of an understatement. Even today, there is a certain amount of rivalry and plenty of jokes between the two nations.
Now I don't particularly dislike the French (A humongous French flag currently hangs in my flat Kitchen due to my French flat mate), but I have always had a smidgen of resentment for French cooking and secretly tried to deny its greatness. This is probably due to the fact that the British, until the last decade or so, have had a particularly poor name in the culinary world whilst the French have excelled. Not only have they excelled but they have somewhat scorned at us for our poor culinary habits (and probably rightly so) – ask James Martin for his experiences in French kitchens to see what I mean (or just read his autobiography).
Anyway, the point of all this is that I am proud to announce that any murky feelings of discomfort at the praise of French cuisine have now gone. 'But why?', I hear you cry; 'Surely a touch of resentment is the essence of any great soufflé?' I hate to break it to you, but it's not. The reason is simply this: Raymond Blanc.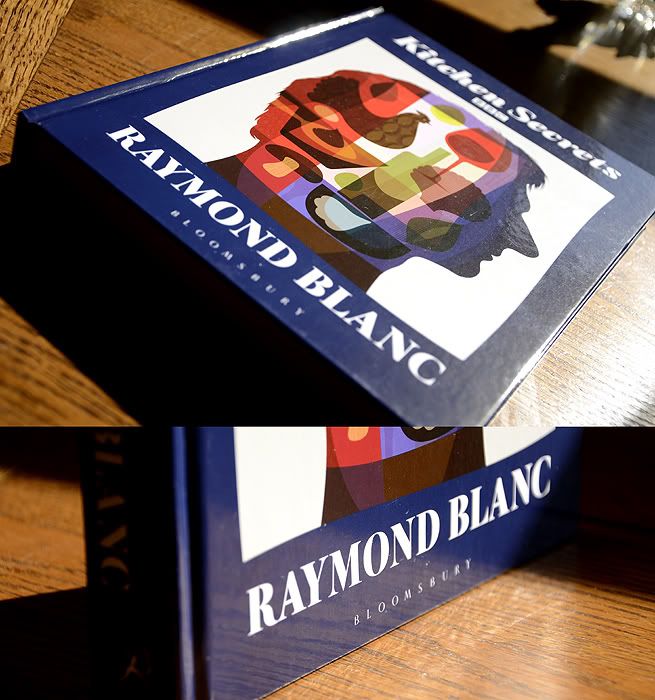 His French charm, his passion and pure excitement for food are simply infectious. When you see him you know that this is how Frenchmen are supposed to be. What's more, as well as containing these fine ingredients, his Kitchen Secrets series has some wonderful recipes, ranging from the simplistic (the ones I might try) to the simply extraordinary (the ones that are simply awe-inspiring and an entertainment to watch).
As it was Mother's Day just over a week ago, I thought it might be nice to buy mine a copy of Monsieur Blanc's Kitchen Secrets book (no vested interest there, of course). It turned out to be a good present indeed. Lavishly illustrated, littered with helpful hints and clearly and concisely organised, this beautiful tome is a gem of a cook book.
Starting with the humble egg, the book is organised into chapters based on the different ingredients that starred in each episode of Kitchen Secrets; from fish to lamb, to tomatoes and chocolate, there's a host of ingredient groups to suit every diet and palate. Each section features up to ten recipes, which are given a difficulty rating between one and three stars. As well as the usual servings, preparation and cooking times, the difficulty rating is accompanied by a helpful list of any specialist equipment that is required.
Before the ingredients list is a practical 'planning ahead' section and each step of each recipe is subtitled with a helpful heading, such as 'to make the sauce' and 'to finish and serve'. Let's not forget the briefly aforementioned tips too, which are extensive and rather useful. For example, the first tip for the Smoked Salmon Omelette says 'Don't use a whisk or break the eggs down too much because you want a contrast of textures, with a little unmixed white and yolk.'
Yes, that's right; there is an omelette recipe here. And that is precisely one of the things that appeals about this book – Although Raymond is a famous two-Michelin-starred chef, he doesn't put himself above something like the humble omelette, instead he shows a great appreciation for the joys and flavours of simple cooking. But that's not to say that he keeps it all simple – his Café Crème in a Chocolate Cup and Pièce Montée Croquembouche are astounding works of art (possibly better looked at than attempted, in my case at least!), and just two of many complex recipes.
It is interesting to note too, that there are hardly any pictures of the man himself throughout the book – Raymond doesn't seem interested in promoting himself as a celebrity chef much; from the start he makes it clear that he is all about the food. And that's what puts the icing on the cake of this recipe book. From the very soul warming intro, where he talks about 'those magical meals [that] turn strangers into the dearest of friends' and claims that 'this little book is... about sharing', right through to the grand finale that is the chapter on chocolate, Raymond's passion and French charm shine throughout. This, coupled with the gorgeous photography, make this a book as much for the coffee table as for the kitchen. Très Bien.
You can still catch the second series of Raymond Blanc's Kitchen Secrets on the IPlayer.
Note: I have not actually tried any of the recipes from the book yet, hence this is more of a preview than a review. I'm sure they'll taste great though!