A lesson on customer service, leaking wallets and a mini invention test.
Most people know of the equipment that corner shops have invested in; the high pitched squeal employed specifically to rid the area around the shop of ASBO-totting yoofs – you know, the hooded type that turn up on BMXs and in modified Vauxhall Corsa's. Borough Market has invested in something similar, but this is a drug. Everyone who swaggers in through its gilded gates is unwittingly hit by the invisible vapour, which penetrates a part of the brain which controls how one spends one's money. It unlocks this mechanism and thus metaphorically creates a rather gaping hole in your wallet, which results in the severe leakage of money.
At least that is what it seems like.
I had never been to the market until last week. My friend Susie had often praised its virtues, and had ensured me that I would love it, so I took her word for it, organised the trip, and off we went.
My first impressions of the place were somewhat overwhelming. Aside from the constant stream of delivery vans and large amounts of building works, there was so much to see that we must have walked round three or four times before making any decision as to what to buy. There was so much on offer that it is pointless to list it, but in brief there was a vast array of meats, fishes, vegetables, breads, cakes, pastries, oils, beers and much, much more. Some things were much more expensive than at supermarkets (usually a reflection of their quality or extravagence), and some actually a fair bit cheaper (3 avocados for one pound, anyone?).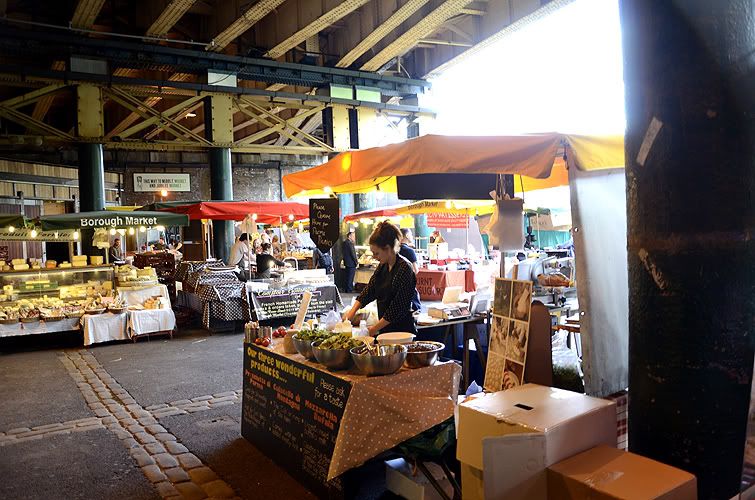 My first good impression of customer service of the day was at an Italian stall called La Tua Pasta. Whilst musing over the choices of fresh tortellini, I was intrigued by the wild boar variety, but wasn't quite sure what boar tasted like. Before you knew it, one of the two running the stall ripped open a pack, chucked a couple in a pan of boiling water (and threw in a couple of pumpkin ones for good measure too), put them on a plate, drizzled with olive oil and a smattering of parmesan, and gave them to us. Considering they're worth about 64p each, this was pretty generous. And the boar, as it turned out, was delicious. Some more chit-chat and advice later (concerning the intriguing squid-ink, white crab and mascarpone tortellini – selling for £9.50 a pack), and I was seven pounds down and one pack of wild boar tortellini up. Aside from the fact that it was delicious, the duo's friendliness and helpfulness were one of the key reasons I wanted to buy from them.
After a while we decided to have a coffee break and headed to the Pret across the road, which was where we encountered our second experience of exemplary service. The guy behind the till was really, almost unsually, friendly and chatty, which was nice enough in itself. But it was the fact that he offered me a coffee on the house that had me amazed. I've never had that experience before, and it was that which made us both agree to go to the same Pret again whenever we're in the vicinity. Being kind and friendly gets you customers – if only all businesses would work that out.
After much more meandering, a pit stop at the hole in the wall to refuel the thirsty wallet, temptations, purchases, and the testing of many olive oils, we departed with some bags full of healthy goodness.
First stop was lunch at Susie's, by Susie. Tortellini filled with beetroot and ricotta was the order of the day, topped with a delicious basil olive oil, and complemented by an avocado salad and some rosemary and salt focaccia bread. Eaten outside in the sun, this made for an exceedingly pleasant experience; the best lunch I've had in a while.
Doing an 'invention test' style dinner before going to the market sounded like a good idea. However, once I was there, there was so much choice and endless possibilities that it became a rather difficult task. In the end though, I decided to go for something simple (and not particularly inventive, if I'm honest): baked cod on roasted potato slices with vine roasted cherry tomatoes. In the event of cooking it I did actually get the timings all wrong, causing some wasted time and frustration, but that's only to be expected of amateur intuition I guess. I enjoyed the meal with a glass of Meantime Chocolate beer (also bought at the market, of course!), which was rather delicious, though the chocolate was barely noticeable. Anyway, here's the correct timing version:
Baked Cod on Roasted Potato Slices with Vine Roasted Cherry Tomatoes
Serves: 1 (easily doubled)
Time:
Cost: £4.00 (approx)
Ingredients:
1 fillet of cod (200g approx)

1 large potato

About 6 cherry tomatoes (on the vine)

salt and black pepper

lemon juice

Best extra virgin olive oil (I used basil oil)

dried rosemary
Method:
Preheat your oven to 220c and get a pan of salted water on the boil. Peel your potato and then cut in half down the middle. Slice the halves in semi-circle like discs, about 0.5 – 1cm thick. Par-boil them in the salted water for 5 minutes.

Next, remove from the heat and drain off the water, and let the potatoes steam dry for a minute or so. Now place them into a roasting try, avoiding having them on top of each other. Drizzle with the olive oil and then season with salt, pepper and the rosemary. Place into the oven, and cook for 20 minutes

Lay your fish fillet on a chopping board and generously season with salt, pepper, lemon juice and olive oil (and a little rosemary, if you like). Turn it over and season the other side.

After the potatoes have been cooking for 15 minutes, place the cherry tomatoes onto an oven tray and season with a little salt and pepper and some olive oil, and then place in the oven.

Once the 20 minutes are up, turn the temperature down to 190c and place your cod, skin side down, on the oven tray next to the cherry tomatoes. Cook for twenty minutes, and then serve.
So there we have it, the Borough Market experience. A thoroughly enjoyable one it was, and well worth it. I would definitely recommend it to any foodie, or simply anyone who wishes to get some seasonal produce that can be cheaper and fresher than that of the supermarkets. My two pieces of advice are: 1) Don't go on a Saturday – apparently you can hardly move it is so busy. And 2), come prepared to lose a fair wedge of hard earned dough in return for some exquisite delicacies. Oh, and finally, don't forget to visit the friendly Italians at La Tua Pasta, and the Pret just outside the market!
A few photos: