It was during late February, whilst idly trawling the web in search of a news story, that I stumbled upon the
press release
for the Pantiles Food Festival. In a matter of minutes I had greedily consumed said press release and knew that I need look no further for my news story.
In what seemed like no time at all later, the news story deadline was long forgotten and the food festival was upon us. It began on the Friday evening, where
Richard Phillips
, head chef of
Thackeray's
(amongst other things), opened the festival with a screening of Babette's Feast and a glass of red in the Pantiles' Corn Exchange.
Unfortunately, due to a work experience placement, I couldn't make the Friday, but by Saturday morning I was back in Tunbridge Wells and raring to go. As it turned out, it was a beautiful day. Upon approaching the
Pantiles
I was greeted firstly with smells: smells of fresh fish, smells of herbs and spices, smells of food. It seemed that the
marketing and PR
for the event had been a success: I don't think I've ever seen the Pantiles so busy as it was then. Market stalls and consumers crammed every inch of those tiles which are so often so painfully empty.
There were stalls selling every edible delight imaginable, from fresh fish, meat and cheeses, to breads, jams, chutneys, chocolates, fudges, to ciders and beers, to olives, oils and curries... the list goes on. Best of all, of course, was that there were plenty of free samples to try. The highlights of which, for me, were lemon infused rapeseed oil (subtle and aromatic), pink cider, and watermelon jam. I think that businesses that don't offer free samples do miss out here – it seems to me that you are so much more likely to buy a product if you've had the chance to taste it first.
As well as the stalls, there were live cookery demonstrations on the bandstand from various chefs from local pubs and restaurants, as well as talks with different people. The talk I was keen to attend was with
Sue Ashworth
, a food writer and stylist with over 20 books to her name. By the time I actually found the building where her talk was taking place I was ten minutes late. There was no one in the room besides two ladies at the front, so I approached them and it turned out to be Sue Ashworth and a friend. Bizarrely enough, I was the only person to turn up to her talk, so she wasn't going to go ahead with it any more.
Now why no one at all, in the absolutely heaving Pantiles, would be interested to hear the tales of a seasoned freelance food writer and stylist seemed a little odd to me. As a result, however, I had a really nice one-to-one chat with her in which I heard a few of her tales from in the industry and was given helpful and sound advice concerning food writing and photography. "Never give up; never, never give up, because you'll get there in the end" was her number one top-tip.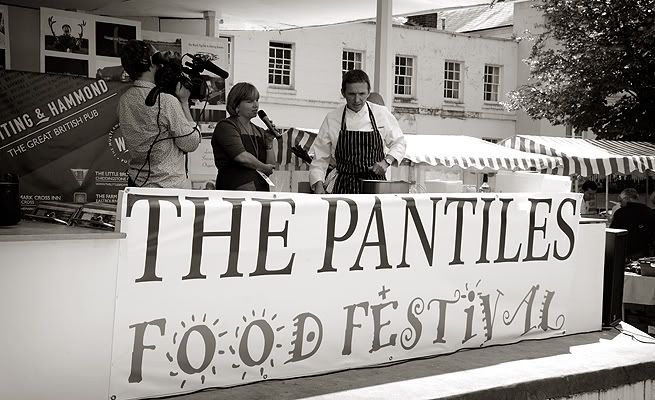 Overall, I think it would be fair to say (possibly because I missed the Friday), that the event was more of a glorified market than a food festival. There weren't any of the street performers or entertainers that were mentioned in the press release, and perhaps a little live music could have spruced things up a little. But that's not to put the event down, because it was very good: beautiful weather, a fantastic turnout, and a great atmosphere made for a really enjoyable experience.
Happily, according to Richard Simm, Chair of the Association of Pantiles Traders, the Pantiles Food Festival is to become an annual event, one which will only get better with every year. Roll on next year, I say.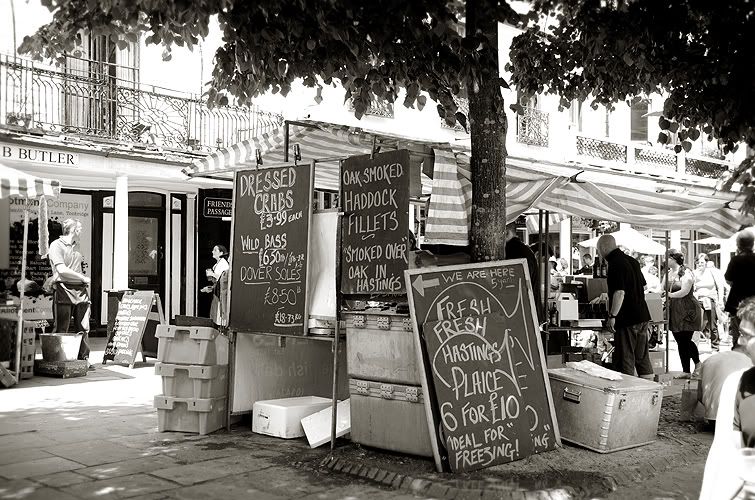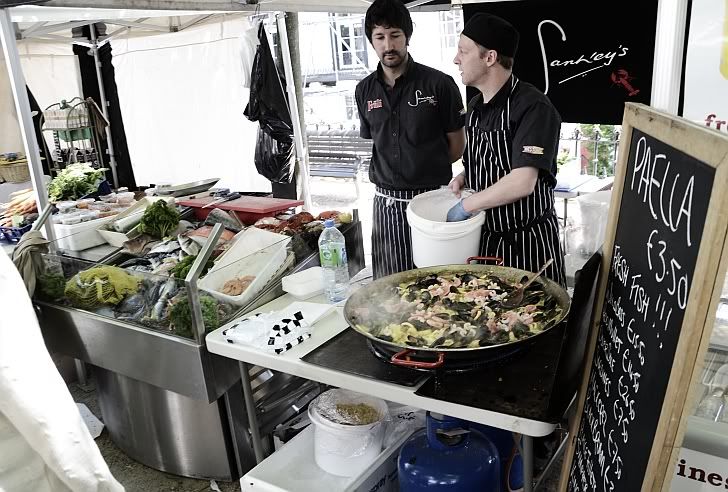 There were plenty of local heroes, such as the chaps from Sankey's here.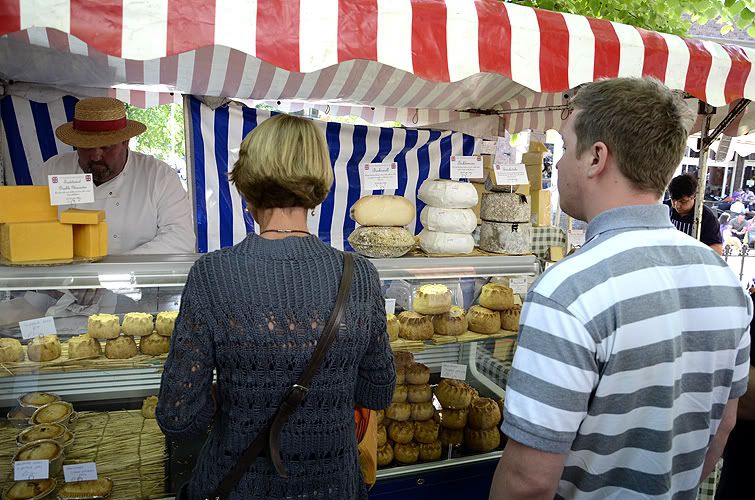 If you can see past the stripes, check out them lovely pies.
Crowds. A surprisingly rare site at The Pantiles.