Well, not exactly. Near Verona, would be more accurate; Torbole, Lake Garda, to be precise. And the love story? Not really, not like that famous one based in Verona (Jomeo and Roulette, wasn't it?).
No, this love story was an unusual one and took a rather odd shape. It began several months before we (my brother and I) even left for Italy; it was a kind of blind love that was born and nurtured through whispers and stories, through a trip to an
authentic Italian restaurant
, through food, and through a
book
written by a
man from Essex
.
The trip was also the result of love; of a love for travel, of a somewhat neglected and flaky love for mountain biking, of a love for mountains, of a love for exploration, and, of course, of a love for food. Lots of loves, lots of confusion, a lack of time and not enough money. Much debate, noise and arm waving later (that, I hear, is the Italian way) and we arrived at a conclusion: 5 days at Lake Garda, which should theoretically cover all of the above criteria.
Perhaps not really a love story in fair Verona at all then, I must confess, but probably more engaging than a title of 'My First Trip to Italy'.
*
As it so happened there, probably could have been many titles to this excursion, including 'Two Greedy English Men', 'Idiots Abroad' and 'Dumb and Dumber'. It certainly was an interesting holiday, in which many things turned out differently to what we expected. As this is a food blog though, I will try not to bore you with too many details and keep to the culinary side of things.
Much of the day before we travelled was spent planning and packing, largely due to the fact that we were taking our bikes with us, which meant that they had to be stripped of the majority of their parts and wrapped in bubble wrap. We didn't realise at this point that the bikes and their bags were to be the bane of the trip, but, as we often said, that was 'all part of the fun'. The flight went well and before we knew it we had arrived in a less-than-fair Verona: as soon as we arrived the thick black clouds opened, followed by torrential rain and an impressive thunderstorm; weather that was to become characteristic of the holiday.
When we arrived in Torbole (pronounced tor-bol-ay, in a rhythmic fashion) it was still raining heavily, so we decided to have dinner at a Pizzeria a few minutes away from our accommodation, rather than find anything authentic. Still, in an attempt to be slightly authentic I ordered a 'Lago di Garda' pizza – topped with asparagus, egg and Grana. It was nice.
The next day, the morning was spent setting the bikes up, shopping for food etc. After lunch we ordered a bike uplift up one of the mountains to one of the downhill courses. It had rained heavily again during the morning. The uplift guy,
Luca
, asked us if we still wanted to go ahead with the uplift as the course could be really dodgy in the wet. Might as well, we said. We'd brought the bikes all this way after all. He openly laughed at this, in a 'you crazy fools' kind of manner, and off we went, instilled with confidence from our new local friend. Not.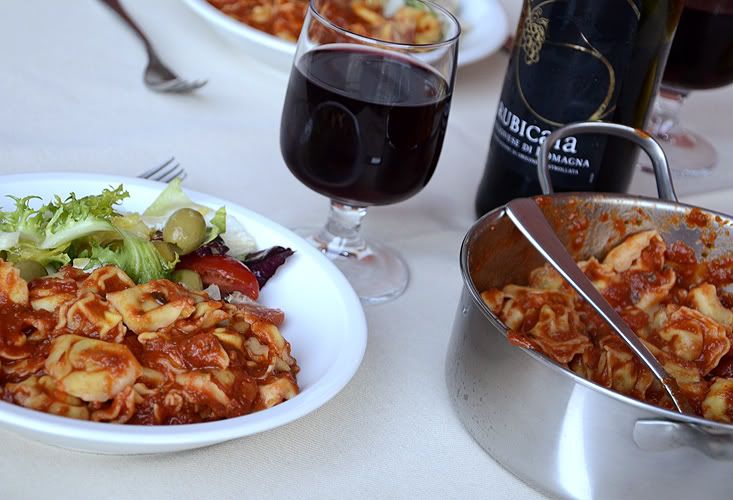 Dinner at home: ironically one of the best meals of the trip.
The course, to be brief, could be defined in two words: rocky horror. It was extremely steep and often narrow, and made up entirely from rocks, the majority larger than a man's head, which were iced off with a wet, slippery sheen. Worse, as we began to pick our way down, a thunderstorm began heading towards us from the south. Being up on a mountain with lovely metal bicycles in a thunderstorm is never a good thing. So we proceeded with haste. Some of the course was ace, admittedly, but a lot of the time it was a case of fighting for control over the steep, wet, rocky descent. Make a mistake, pitch yourself over the bars, and it would be broken bones and/or ribs for sure, and a punctured lung if you were unlucky. Thankfully, we made it back safely; buzzing, unharmed, but completely soaked.
Ironically in the evening the sun came out, and what a difference it made. We ate dinner at home; a very simple meal of prosciutto filled tortellini with tomato sauce and a mixed leaf salad with olives, cherry tomatoes, lemon juice and local extra virgin olive oil. We also bought a bottle of the cheapest wine in the supermarket, Rubicaia Sangiovese di Romagna. Funnily enough, both the meal and the wine were absolutely delicious, and eaten on the balcony in the evening sun, they made for one of the best meals of the trip.
Day 2
We met Luca at 9:30 where he picked us and a bunch of German's up, to take us to Mt. Altissimo. As we began the hour long ascent Luca popped a CD into the player, and off we went to a soundtrack of AC/DC's
Highway to Hell
. I explained how difficult the track was yesterday to Luca. "Yeah, it is pretty technical," he said "But I think the Mt. Altissimo tour is even more technical." Suddenly the soundtrack came across as strangely ironic.
Onwards and upwards we went, the ribbon of tarmac that was the road endlessly snaking up higher and higher until we had left the tree line well behind. I made a mental note to revisit these roads one day in a Lamborghini. Eventually, we came to a stop, now to the soundtrack of AC/DC's
Thunderstruck
(again, ironic). Luca had advised us to bring warm clothes, and we could now see why. It was eight degrees Celsius up here, with a strong, biting wind and more-or-less horizontal rain. He saw my flimsy hoody and reacted with that laugh again.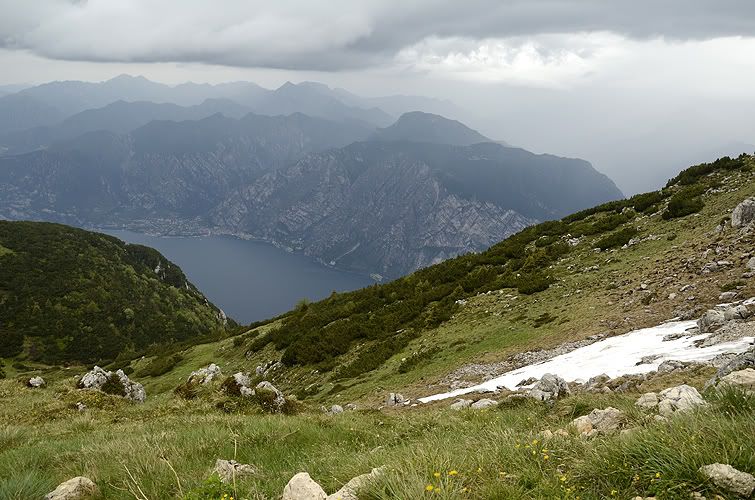 You know you're high up when you've got snow in June and are looking down on other mountain peaks.
But now the worst bit was coming – we were currently at 1600 vertical meters, and now had a 400 vertical meter, hour long climb to the start of the course, which began at 2073 meters. The push, up a winding rocky road, resulted in a strange cocktail of emotions and feelings. On the one hand you were hot and sweating from lugging the 20kg bike up the poorly surfaced road, whilst on the other you were freezing cold from the constant buffeting of wind and icy pellets of rain. You were also frustrated and tired from the seemingly never ending struggle that just went on and on, and at the same time you were in constant awe at the views. Looking down at peaks isn't something you often do outside of an aeroplane. And then added to the mixture there was a sense of amusement at the epic yet foolhardy nature of this whole episode, that was being experienced and endured simply for the pleasure of riding a bicycle down the other side.
By the time we reached the top (there was snow on the mountainside at this point) we were rewarded with a solitary building that was a snack bar and café, where I had lunch in the form of a slice of Amaretto and ricotta crumble cake with a cappuccino. This was definitely the most memorable lunch I've had for a while; it was delicious, and very readily received.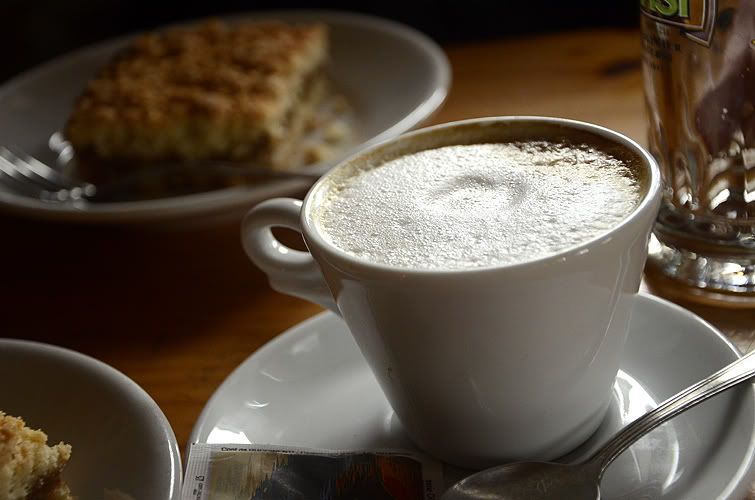 One of the most welcome and warmly received Cappuccinos I've ever had.
To cut a long story short, the descent was, as Luca had warned, more technical. Rocky horror all over again. But this time from 2000 meters. Add getting lost once, some ridiculously rapid road riding and lots more rain, and we arrived (to my surprise) in one piece back in Torbole, absolutely saturated and muddy.
However, we weren't going to let that put an end to our fun. The authors of the Mountain Biking Europe guide had recommended a restaurant in the nearby town of Bardolino, called
Al Commercio
, and I really wanted to check it out. A few hours later and we were on the bus to Bardolino (in wet shoes with no socks).
As it turned out, Al Commercio was a cute Trattoria, exactly the sort of authentic eatery I had been hoping for. The menu was extensive and featured some interesting options such as colt steak and donkey ragu. I eventually chose the Tagliatelle con Ragu di Coniglio (rabbit ragu with tagliatelle) whilst Ben went for the Scallopine alla Pizzaiola (escalopes with a pizzaiola dressing). The rabbit was ragu was indeed very nice, though I was surprised how similar the rabbit was in flavour to chicken. Interestingly, the tagliettelle wasn't particularly 'al dente' either (not that I minded!) which is something I had heard the Italians were very fussy about.
Al Commercio - A homely Trattoria with an extensive menu.
I tried a bit of Ben's escalopes too, and these were very delicious. The dressing was (I think) tomato, oregano and olive oil based, and was subtly backed by flavours of chilli and garlic. It complimented the tender salty meat and olives perfectly. Yum! For dessert we both had a Cioccolato con Crema Pasticcera e liquore Aurum. A bit of a mouthful – the name that is! It was a chocolate fondant with a thin and light chocolate, vanilla and almond liquor custard, and it was immensely rich and delicious. Overall it made for a nice meal in a lovely restaurant, and not too pricey either. Unfortunately the taxi back to Torbole cost more than double the meal…

Part 2 coming soon, featuring more chaos, a day in Venice (beautiful city or overrated tourist trap?) and a surprising gastronomic end to our trip.
Ciao for now!