Day 3
Following on from Part 1...
This was the day I had been most looking forward to: Venice. Getting there required a 6:00 start, and after catching a bus with the school kids to Rovereto (they were noticeably more calm and quiet than the mouthy lot on my old school bus), we caught a train to Verona, changed train there, and finally arrived in Venezia Saint Lucia station at 11:00.
Thankfully, it was a sunny day, and it was very hot at that. There we were with our raincoats and bright yellow brollies in the blazing sunshine, looking like the
Thompsons
from TinTin. For a start we simply wandered around the allies not far from the station. People often complain about the tourists in Venice, but here there were virtually none, and we were left to explore the magical network of alleys, bridges and canals in an almost spooky quietness. It is very difficult to describe, but there is something truly magical about Venice; the labyrinth of ancient buildings and the alleys between them is something we could have explored for hours. We also noted, and wondered, how ancient crumbling buildings manage to look so strikingly beautiful and magnificent here, yet in suburban London they make you want to vomit. Strange.
Why can't they look this good in suburban London?
After lunch (Cannelloni filled with spinach and ricotta), we headed to the Vaporetto port, and after much confusion and back and forth-ing concerning which jetty we were meant to leave from, we hopped on the tourist-crammed boat and off we went down the Grand Canal. This was thoroughly enjoyable, and was a great way to get to see much of the great sites and architecture from the water. We alighted at San Marco's square, the true tourist trap of Venice. Indeed, it was absolutely jam packed with tourists and merchandising. After walking round here for a bit, laughing at the prices in the cafe's (€8.50 for a Cappuccino, anyone?) we stopped at one of the many Gelateria's for some well deserved ice cream. There were many, many, flavours to choose from, and I eventually settled for a scoop of melon and a scoop of cookie. The melon was light and refreshing but not as luxuriously indulgent as the cookie variety.
After a while we began to walk back up the streets that run parallel to the Grand Canal towards the station. Our old friend Mr Thunder was approaching again, and as the first spots of rain fell, we were suddenly glad to have been lumbered with our umbrellas all day.
Spaghetti al Nero - Cuttlefish and its respective ink sauce create a unique aesthetic, not to mention flavour.
I was keen to get some authentic Venetian food, and managed to find it, after seemingly endless menu reading and debating, at a cosy little Trattoria called Da Gianni. Here I enjoyed a dish of Spaghetti al Nero – a spaghetti dish with cuttle fish and cuttlefish ink sauce. The cuttle fish itself was quite rubbery, but the sauce was rich and almost mushroom-ish. I (greedily) had secondo of Scaloppine Pizzaiola, as I had enjoyed the sample of Ben's so much yesterday, and this proved to be well worth it too. I was chuffed to have finally had some local, authentic cuisine.
Afterwards, we headed towards the station where we began the long journey home, leaving Venice basking in the beautiful evening sunlight.
The Italians take their pasta very seriously.
Day 4
We were both knackered from the previous few days, so decided to take today a little more easily and spent it exploring Torbole. In the evening, both tired of reading similar menus over and over and over again, we decided to go for something different and headed to the
Tex Mex
restaurant up in neighbouring Nago. It was something I never envisioned doing before I came; going for a Mexican in Italy, but we both somehow felt like it.
It turned out to be one of the best decisions too. Firstly, the restaurant had got the styling and atmosphere just right: every lampshade was a cowboy hat, there was a giant bull's head on the wall, empty beer bottles lined the shelves, everything was tightly packed and brightly coloured, and the whole place felt like a bar/saloon. The music too was also classic mexican/latin style with a bit of country thrown in for good measure.
Then there was the food itself: both of us decided to go for the classic Burrito which was generous in size and came with a portion of chips and salad. For dessert we both had a hot tortilla wrap, coated in Nutella and served with a ridiculous amount of whipped cream. It might not be something you would see on MasterChef, but it was very tasty.
Finally there was the price. On our table when we arrived was tortilla crisps with two dips, then the friendly waiters came with two small hot tortilla wraps, and finally they gave us a shot of some sort of refreshing berry flavoured drink. We worried that all these extra goodies would be added to the bill, but when we asked for it (
Il conto, per favore
) it was all included. Now that's what I call service.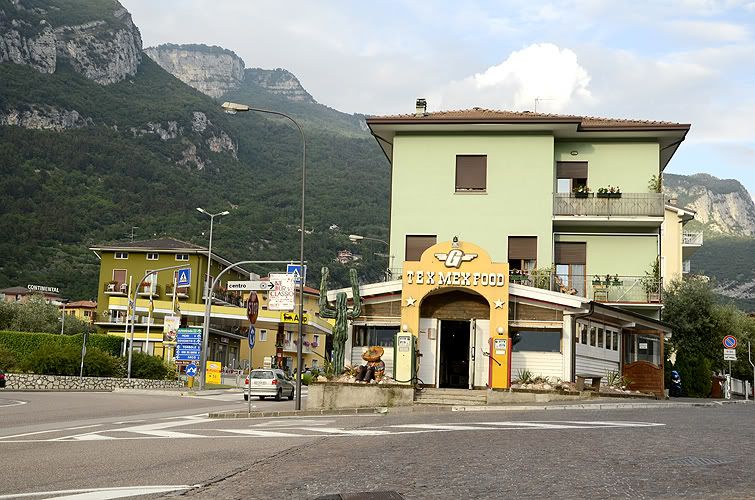 Tex Mex - a great meal and the source of my gastronomic confusion.
So I left Tex Mex admittedly feeling a little gastronomically confused. I had come to Italy expecting to be blown away by the Italian food (everyone I had spoken to before hand, foodie and non-foodie alike, had told me that the food was great in Italy) and yet somehow, two of the best meals of the trip had been the 10 minute one cooked in our flat and the Mexican one at the end of the holiday. Life is full of surprises I guess.
Day 5
As I left the Tex Mex, I remember thinking that it would make a good ending to the blog post; an interesting twist with which to end the trip. Alas, little did I know that our adventures were far from over, but I shall not go into the details now. I shan't go in to the fact that the train going to Verona was actually going from Verona, how we ended up going in the wrong direction for an hour and a half before discovering that we were indeed headed for Munich and not Verona.
I shan't go in to the stress of lugging a 26kg bike bag, 10kg suitcase and backpack through stations, trains, onto buses and through airports. I shan't go into the details of missing our flight, sitting miserably on the airport, dragging all our luggage on an airport trolley down a deserted road and through a little village (to the great bemusement of the locals) to a
B&B
. And I shan't describe the details of how we still, after spending all day on the airport, managed to almost miss our second flight home (hint: it involves poor organisation on the airport staff's part and lots of very pushy people).
No, all you need to know is that we eventually made it home and learnt some important lessons from our trip. The lessons include:
Don't bother trying to save money. As a result, we not only made life extremely difficult for ourselves (dragging the huge bike bags everywhere, the stress of making trains, holding up the public etc), we also lost a whole day and a lot of money. In trying to save about €40 we lost about £203. Each.
Things don't always go the way you expect. Deal with it.
Plan carefully, but go with the flow. Accept the situation and circumstances and ride the wave.
The smallest wrong decision or mistake can have the largest of consequences.
Always bring a spare pair of socks.
You'll get there in the end...
So, what now? This was a fantastic and much enjoyed trip in which we achieved many of our goals: we did some biking, went to new places, met different people, had a fantastic day in Venice, ate like pigs, and made it home in one piece.
But gastronomically, it leaves me two options: Go back to Italy (perhaps further south) and try and find its foodie core, or simply cook my way through my copy of Jamie's Italy and see if I can find it through that. I have a sneaking suspicion that the latter might be cheaper and more accessible, so for the moment that is what I will have to do. Looks like the
MasterChef challenge
may have to be put on hold...
PS - What are your experiences of Italy?
A quick thanks too, to our hosts at Residence Toblini, who did a great job of looking after us clueless tourists! And thanks too, to the fantastic couple at Ai Due Volti for providing an excellent B&B on that disastrous day!