15/06/11
Today I made mayonnaise for the first time. Nothing special about that. It was a Miso Mayonnaise, though. Still not exactly headline worthy. What
was
unique about this though, was the fact that it was made in front of a good two hundred blood-thirsty spectators at the
BBC Good Food Show Summer
.
The fact that it was my first attempt must have shown, too. "Jason doesn't look like the sort of person who's made a mayonnaise before," said the Cook School host,
Andi Peters
, in a somewhat patronizing tone. "You have had mayonnaise before though, right? Does yours usually have a Hellmann's sticker on it though?"
"More like Sainsbury's Basics," I (truthfully) replied.
When looking at the GFS timetable back in early May, I decided that I wanted to do the MasterChef Cook School as it sounded like a potentially good experience. I was split between booking it with my old man-crush,
Dhruv
, or with the 2011 champion,
Tim Anderson
. In the end I picked Tim, as I liked his wacky, 'mad professor', and optimistic approach.
It seemed like a great idea at the time, but by the time I was hurrying towards the MasterChef Experience theatre on Wednesday morning, feeling flustered and a little unwell, I wasn't so sure anymore. As I approached, through one of the great, crowded hangars that constitute the NEC, I realised that the small niggling fear in the back of my mind was indeed correct; I would be cooking on the MC Experience stage in front of a large crowd. Great.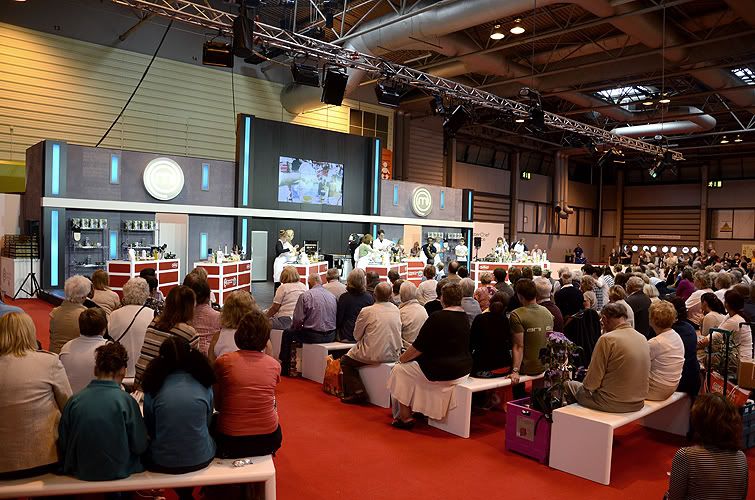 The blood-thirsty crowd watched hungrily.
Upon entering the 'back stage' room I was warmly welcomed and offered free cakes, quiche and drink (all courtesy of Sainsbury's), though I was none too hungry at this stage. There were only three other participants present (including one with a broken arm), all who seemed notably more relaxed than me. "This is the recipe we're doing," announced a middle-aged Mancunian in a stripy polo shirt. I glanced over his shoulder at the GFS Recipe Collection & Guide 2011 to see a recipe for rainbow trout with steamed vegetables, daikon julienne, miso mayonnaise, and a ponzu beurre noisette. It consisted of 24 ingredients. I gulped, now even less comfortable than before, and dashed out to get my own copy of the recipe for a bit of last minute revision.
After what seemed like an age, Tim was introduced and interviewed (see the video below), and then Andi Peters asked the crowd to give a warm welcome to the cookery students. Hearing the muffled voices and clapping from the backstage room, and then walking out onto the brightly lit stage, I felt like something from
Gladiator
– a bizarre and humorous thought considering the reality that I had simply paid to cook some fish on a stage.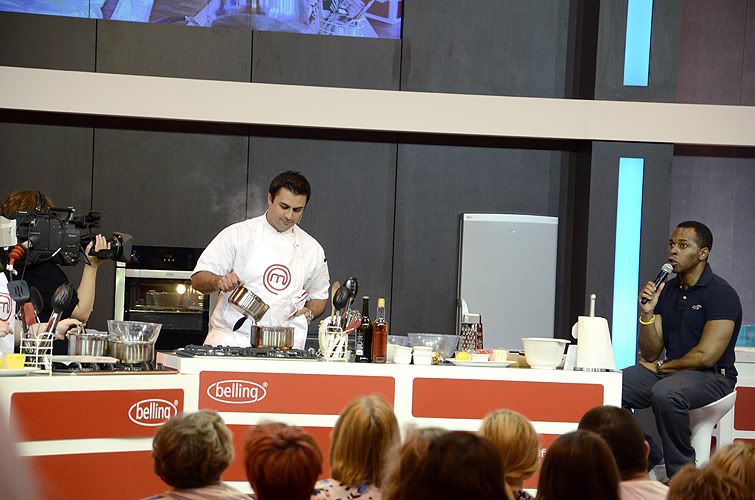 Last year's MC Champ, Dhruv.
The good news was that we each had an assistant, a catering college student who would prove to be invaluable (I am much indebted to that girl!). The bad news was that we only had half an hour, and I am a very slow cook at the best of times. I'm also a messy cook, and the work surface looked a state before I had even started thanks to all the ingredients and equipment.
Fortunately, the cooking went reasonably well. It was a bit of a struggle as I had to try and keep up with Tim, which meant turning round to see what he was doing and listening to what he was saying whilst trying to cook the recipe at the same time. My chopping was all over the place, I managed to knock a pot and some spoons onto the floor, and my 'steamed' vegetables were somewhat charred, but we got there in the end; getting the ingredients plated in the nick of time – in true
MasterChef
style.
Unfortunately, in the excitement of the moment I forgot to photograph my plate, but I certainly enjoyed eating it. The fish, miso mayo and the beurre noisette were particularly delicious.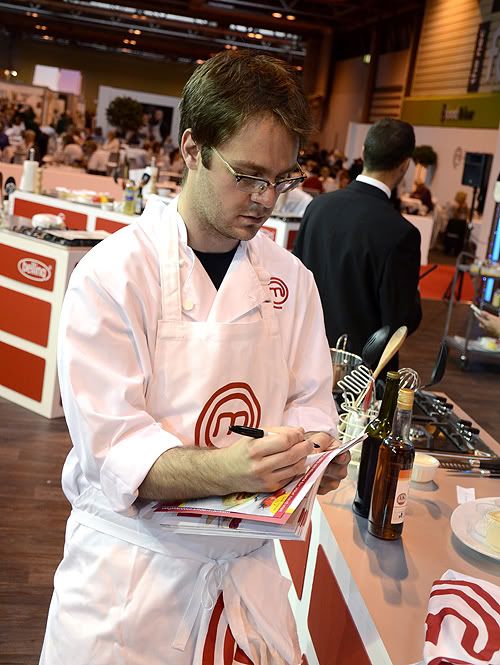 Overall then, it was a very worthwhile experience. Not only did you get the experience of cooking one of Tim's dishes alongside him, but you also got to enjoy eating it – a dish that would have cost a fair whack at a restaurant. You also got to keep the MasterChef apron and towel as well. Considering the aprons were being sold for £15 each, the fact that the whole affair only cost £20 makes it very good value for money and truly worthwhile. It definitely goes down as one of the cooking highlights of my life.
Oh, and as an added bonus, Andi Peters gave me a bottle of
Sainsbury's Basics washing up liquid
as a result of my basics joke. How touching!
Oh, and here's a little video I put together from the show featuring an interview with Tim. Hope you like it!:
BBC Good Food Show Summer 2011 feat. Tim Anderson Interview from Jason Wain on Vimeo. (Thanks to Jannic for the Fraiche Food jingle!)

Pan-Fried Trout with Miso Mayonnaise, Steamed Vegetables and a Ponzu Beurre Noisette

It has been far too long since I last posted a recipe, so I thought it would be nice to do a somewhat simplified, slightly more accessible version of Tim's recipe here. Admittedly, when making this at home, I managed to make a fair amount of mess and also burned the fish whilst pan-frying – unforgivable I know!

Serves: 2
Time: 1 hour?
Cost: £3.10 per serving (approx)

Ingredients

2 trout fillets (approx 100 – 200g)
20g butter
1 ½ tsp vegetable oil (or preferably rapeseed, if you have it)

For the Miso Mayonnaise:

2 egg yolks
1 tbsp rice vinegar
1 tbsp white miso
150ml vegetable oil (or rapeseed)

For the Ponzu Beurre Noisette

50g butter
2 tbsp light soy sauce
1 tbsp rice vinegar
1 ½ tsp caster sugar

For the vegetables:

10 asparagus spears
5 baby corn
6 radishes

Method

1) For the miso mayonnaise, set a bowl over a pan of simmering water. Whisk the egg yolks, rice vinegar and miso together in that bowl. Drizzle the oil in very slowly – add too much and your mayo will split. Keep adding until you have the desired mayo consistency (you don't have to use all the oil), then season with salt and white pepper. Remove the pan from the heat and leave the bowl on the pan to keep warm.

2) For the steamed vegetables, prepare the veg by washing, chopping the baby corn in half length ways, chopping the tips off the radishes, and cutting the asparagus so that the heads are roughly the same length of the corn.

3) Cook the veg for 6 minutes in a steamer until tender. Alternatively, as we did at the show, put a knob of butter in a largish pan, put the veg in and a lid on top. Jiggle the pan every now and then to ensure the veg don't catch and cook them over a low-medium heat until tender.

4) For the ponzu beurre noisette, melt the butter in a pan. When the butter has melted and started to go pale brown, add the soy sauce and rice vinegar. Sprinkle over the caster sugar, stirring continuously. Keep warm over a very low heat.

5) Finally, for the fish, season the trout with salt and pepper (on the skinless side). Melt the butter and oil in a pan over a high heat. Add the trout fillets, skin side down and cook for two minutes. Turn and cook for a further 2 minutes (or until done). Remove from the heat and peel and discard the skin. If properly cooked, the skin should peel off easily.

6) To serve, spoon and streak some miso mayo onto your plate and partially cover with a trout fillet. Arrange the vegetables on the side and drizzle with the ponzu beurre noisette. Enjoy!