Probably the only time you'll ever get Michelin starred food for a fiver and served on a paper plate...
I will confess now that I got off to a bad start. It was pouring with rain, I was very tired, and feeling under the (poor) weather. The last thing I wanted to do was leave the comfort and warmth of my flat. But the tickets had been paid for, so I wasn't about to waste the £25 entry fee. My initial views of the
Taste of London Festival
, therefore, may be a little jaded, and for that reason I will abandon any futile attempts at objectivity (something that doesn't really exist anyway) from the off.
When I first arrived at a rainy Regents Park, I discovered that my fears were correct. When browsing the Taste of London website, I had a strange, sneaking suspicion, that the main clientèle could end up being, well, a little oiky. It was just a thought, but amazing as it sounded, the idea of Michelin star restaurants, Pimms, plenty of champagne bars, and ridiculously priced VIP tickets seemed to smell of certain income brackets. And so there I was, standing in the rain bitterly observing the yummy-mummy, bleached-blonde, wannabe-wags, with their Burberry umbrellas and Louis Vuitton handbags, who'd no doubt borrowed their husband's Range Rovers (Vogue edition) to get here, and paid for their shiny VIP tickets with said husbands' much abused credit cards.
Enough grumpy cynicism. After a while the rain stopped and the sun emerged, and I started to enjoy myself. There were hundreds of tents, stalls and gazebos, with everything from bars and small producers, to cookery schools and of course the great restaurants themselves. Pleasant live music in the form of local Jazz bands were playing too, giving the event a fête-like atmosphere. Jazz bands, local produce, white gazebo's and rain sodden grass – how much more typically British and fête-like could it get?
Anyway, in order to not turn this report into a thesis, and in a bid to retain some legibility, I shall proceed to publish here my notes of the foods I tried from the various restaurants, and whether or not they lived up to expectations:
Le Gavroche
Dish: Ballotine of chicken, pickled mushrooms and truffle dressing.
Nice, garlic-y, prominent truffle flavour but really nothing amazing. I was expecting some kind of epiphany having heard the way people talk about Le Gavroche, but was a little disappointed. It was a nice surprise, though, to walk to into the gazebo and find myself face to face with Monsieur Roux Jr himself! Not as scary as he is portrayed on MasterChef.
Rating: 3/5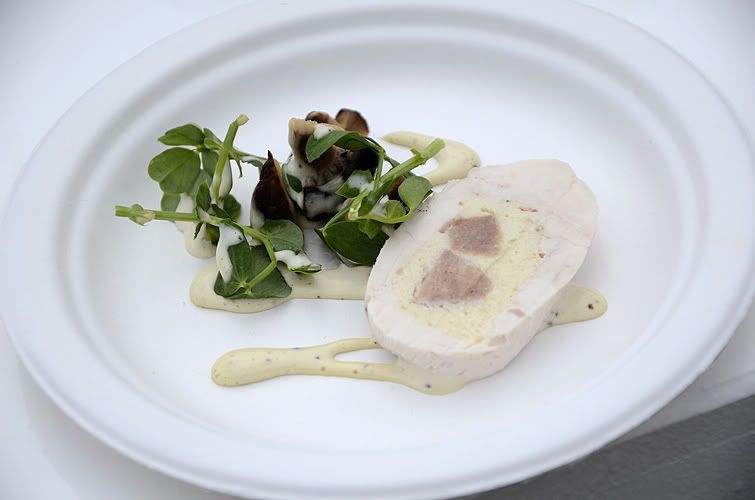 Club Gascon
Dish: Black salmon and celeriac remoulade
The salmon was unbelievably soft, but the flavour was so delicate that is was almost non-existent – especially when paired with the bitter celeriac remoulade. It was nice though, and a generous portion too.
Rating: 3.6/5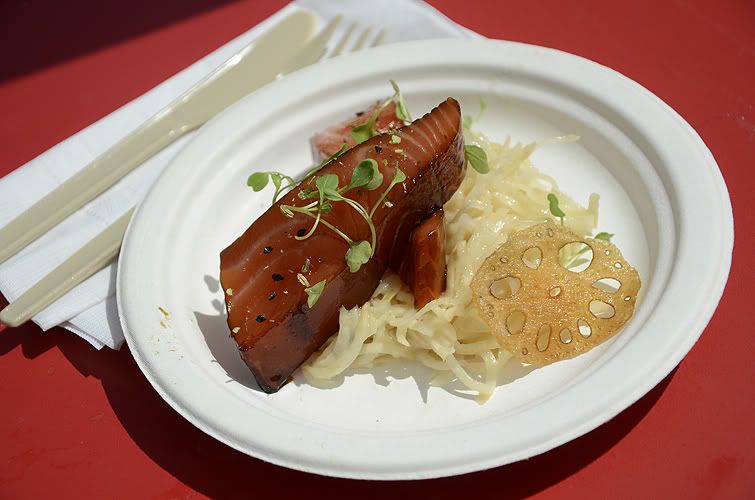 L'Anima
Dish: Burrata D'Andria and smoked purple aubergines
I had been quite excited about this one. The burrata (a creamy mozzarella) was tasty, and its creaminess was complimented brilliantly when paired with the sweet chutney. The other part was a bit strange, perhaps too cold, but nice when mixed with the rest.
Rating: 3.6/5
Asia De Cuba
Dish: Mexican doughnuts – sweet brioche doughnuts, rolled in cinnamon sugar and filled with butterscotch sauce, served with a mojito sorbet
The dish description sounded tempting and proved to live up to expectations. This was the second best portion of food I had this day. The miniature doughnut balls were warm, sugary and lightly spiced with cinnamon whilst the mojito sorbet was deliciously refreshing. They both worked together surprisingly well to create a tasty, comforting and refreshing dessert. The woman who served me kindly turned a blind eye to the fact that I was two crowns (Taste currency, value £1) short too.
Rating: 4.7/5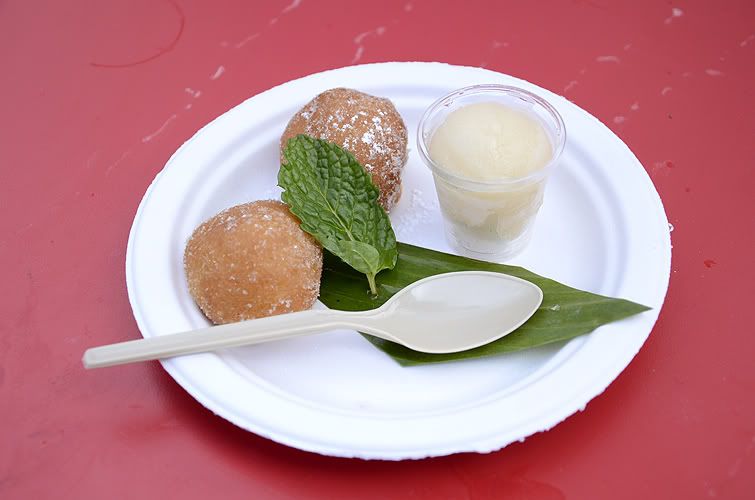 Kai Mayfair
Dish: Barbequed Soy and Honey Marinated Lamb – Spiced with shallots, garlic and coriander.
This Michelin starred Chinese restaurant definitely served the best dish of the day. The lamb was succulent and tender, and almost as soft as a marshmallow. When accompanied with the sauce, the flavour was simply outstanding. It was the one dish that made me make a mental note to definitely go and visit their restaurant in the near future. Their luminous green wasabi prawn dish was something of a sight to behold too.
Rating: 4.9/5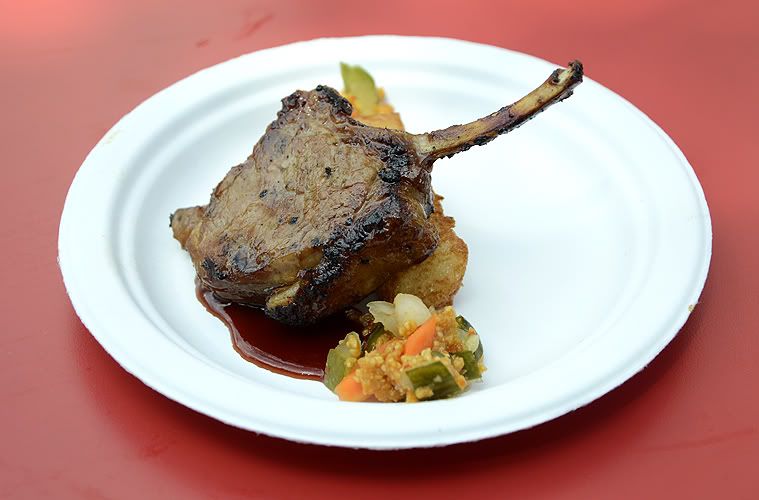 A few snaps...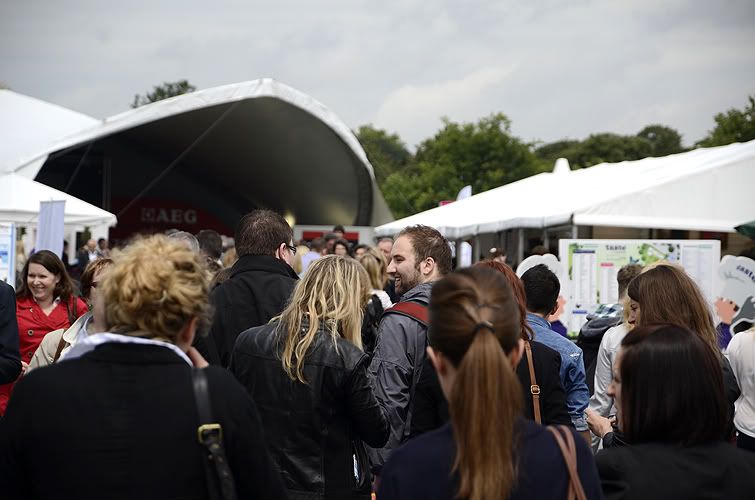 Michel Roux Jr and one of his fans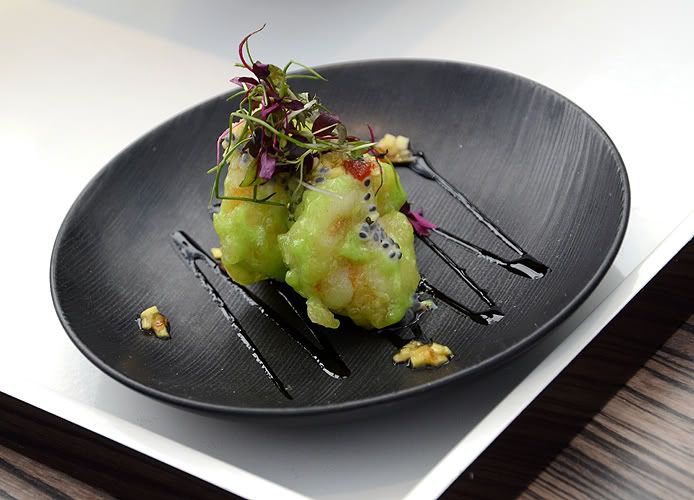 Kai's incredible wasabi prawns. Has to be seen to be believed!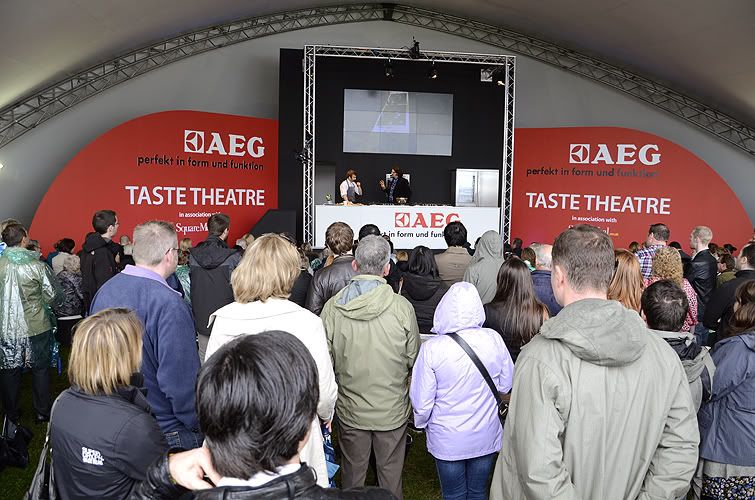 Tom Aikens & Jay Rayner in the AEG Taste Theatre