A guide to one of Cornwall's quaintest fishing villages
Cornwall has long been a popular destination for British holiday makers and it is easy to see why. Simply put, it is because Cornwall is its own country; it doesn't really feel British. It's like someone has got a slice of the Mediterranean and dumped it unceremoniously on the corner of Britain that faces the Atlantic Ocean. With white-washed cottages, yucca trees, sandy beaches and crystal clear waters, it is easily passable as part of the Med and clear that it is no accident that this corner of the Blighty is facing, and closest to, the Caribbean. Cornwall even has a flag and its own language, if you really need any further evidence of its independence.
Recently I found myself spending a week in the cosy cove of Porthleven, near Helston, and had quite an unexpected fill of foodie delights. Here follows a small guide to said treasures that can be found in and around Porthleven.
The Corner Deli
This little deli, located in Fore Street, is a foodie's delight, offering everything from jams, pickles, chutneys, olives, teas, artisan cheeses, oils and much, much more within its confined walls. You can also get a cuppa tea or coffee whilst you're there, and it even boasts a wood-fired oven, which is responsible for cooking their extensive menu of reasonably priced pizzas. The intoxicating smell of wood smoke as you go for an evening stroll will get you eventually, and when it does you'll find yourself eating the most delicious and authentic Italian-style pizzas. The real McCoy. The staff are friendly and helpful too.
http://www.thecornerdeli.co.uk/
Yarg Cheese
Yarg is an artisan Cornish cheese from Lynher Dairies. The deli offered two varieties: Garlic Yarg and the traditional Nettle Yarg (the cheese is wrapped in nettle leaves). I opted for the traditional. The flavour was mild, milky and creamy, like a Wensleydale but slightly less crumbly. It also had a slight but distinct grassy/floral/meadow flavour which was accentuated by the nettles. Yum.
http://www.lynherdairies.co.uk/index.html
Quayside Fishmongers
The Quayside Fishmongers on Fore Street sell more than just fish, but the fish is what we came for. The fish is freshly caught by boats that bring it into Porthleven harbour, so the produce has virtually no road miles on it. When we were there they had a special offer on Mackerel (Hugh would be pleased!) at £4.98 per kilo, but it was the salmon which I was after, which was a more expensive £17.50 per kilo. The beautiful fish was filleted in front of us by the friendly and helpful staff, and tasted simply sublime. And that's an understatement.
http://www.quaysidefish.co.uk/index.php
The Lugger
Restaurant prices in Porthleven are around the same as London prices, but then I guess they have to make the most of the tourist season. The Lugger offers a largely seafood orientated menu, with a few meat and one vegetarian option (but who honestly comes to Cornwall to eat chicken anyway?).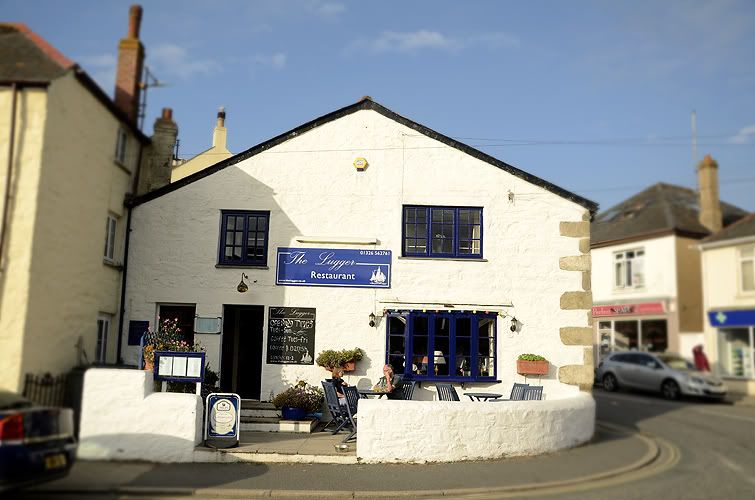 Water was freely given with the wine when asked for, and a basket of fresh white bread and butter was given too. The wine was nice (I'm no connoisseur, evidently) but it was rather warm. I ordered a crab ravioli starter (£5.50), which consisted of hand-picked Porthleven crab in hand-made ravioli with a citrus butter and tomato salsa. For mains I had brill with a red wine and wild mushroom sauce served with Cornish new potatoes (£15.00). The brill was well cooked, though a little bland. The red wine sauce was tasty despite its watery consistency. Neither of the two courses were as good as the crab and chilli linguine which I had here last year, which was spectacularly delicious (£13.75). My friends seemed very pleased with their battered line-caught pollock, home-made chips and tartare sauce, which was great value at £10.50.
http://www.thelugger.co.uk/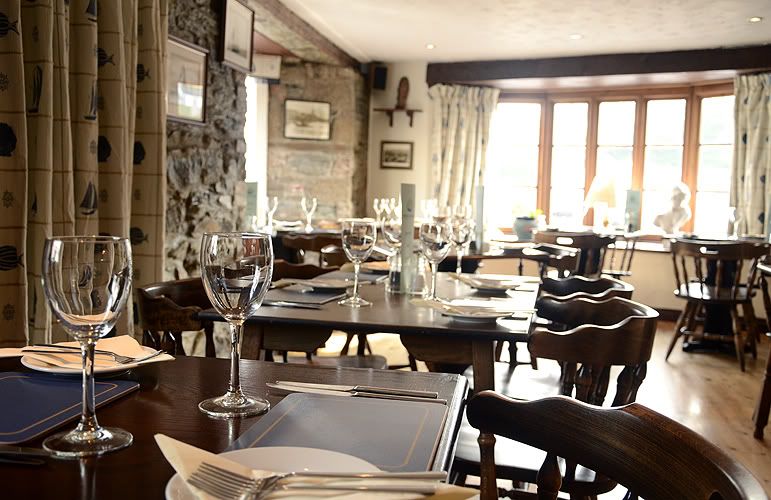 Wooden Hand Brewery – Cornish Buccaneer and Mutiny
The Cornish town of Truro is responsible for the Wooden Hand Brewery, whose beers I bought from that Corner Deli. The Cornish Mutiny was a cloudy, deep sunburnt orange/rusty brown colour, which was reflected in the rich malty flavour, though none too harsh or bitter. It was fairly similar to some dark Belgian beers I've tried (chiefly, Grimbergen) and thus less distinctive than its brother, the less-aggressively titled Buccaneer. This was lighter in colour, though still characterised by a beautiful deep golden hue. Fruity, crisp, bitter-sweet and refreshing, it was delicious. £2.30/500ml.
http://woodenhand.co.uk/index.htm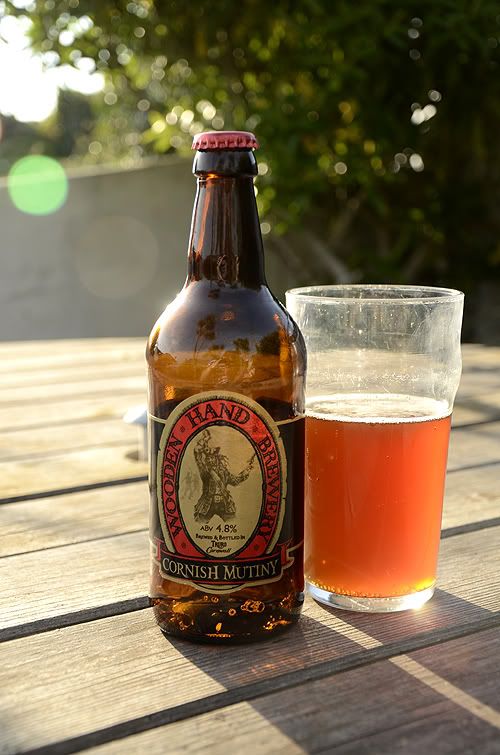 The Horse and Jockey Bakery
You'd be forgiven for thinking, when entering the bakery and encountering its incredibly sparse/non-existent interior, that either you'd stepped back a few decades, or the produce might be of dubious quality. Either way, you'd be wrong. The fresh bread and rolls were amazing, and the confectionery and pastries were mammoth in size and luscious in flavour. There's a huge variety of Cornish Pasties to be had too. We went for the traditional one, which again was an epic portion that easily served as a whole meal.
1 Commercial Road, Helston, Cornwall TR13 9JD
01326 562324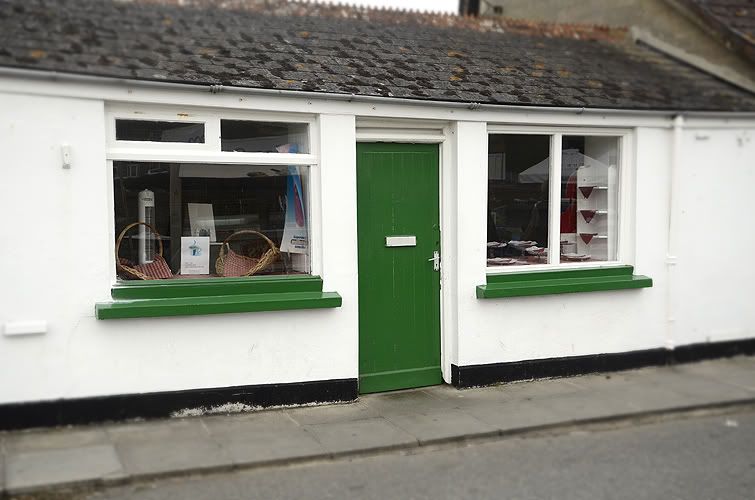 The Harbour Inn
If you want to soak up the vibes on a warm summer's evening, this is the place to go. Sit out on the harbour-side benches with a refreshing pint and simply lap up the pleasant buzz that only a place like this can provide.
http://www.staustellbrewery.co.uk/harbour-inn.html
That Cove
Finally, if you walk past the Ship Inn, and carry on that road, you'll find a path leading to Rinsey Head. Follow the path for a couple of minutes, and, by a memorial, there are some shady steps leading down to a beautiful and peaceful little cove. A great place simply to sit and think, and enjoy your surroundings. Even better, have a BBQ there and watch the sun set. Belissimo. Just keep an eye on the tide.
This little guide is in no way exhaustive: there are plenty of other restaurants and pubs in Porthleven, as well as another bakery, another deli, a market and a fishing trip that have all yet to be tried. This is just a sample of what I was fortunate enough to enjoy.
The 'Greek' pizza from the Corner Deli - fantabulous.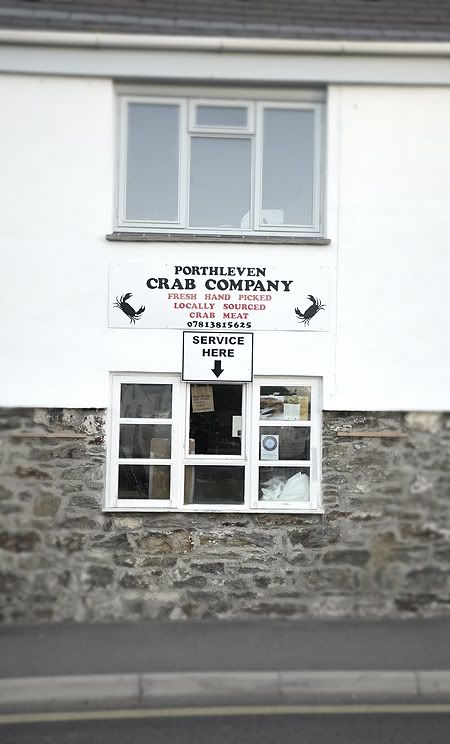 Only in Cornwall would you find a crab Drive-Thru...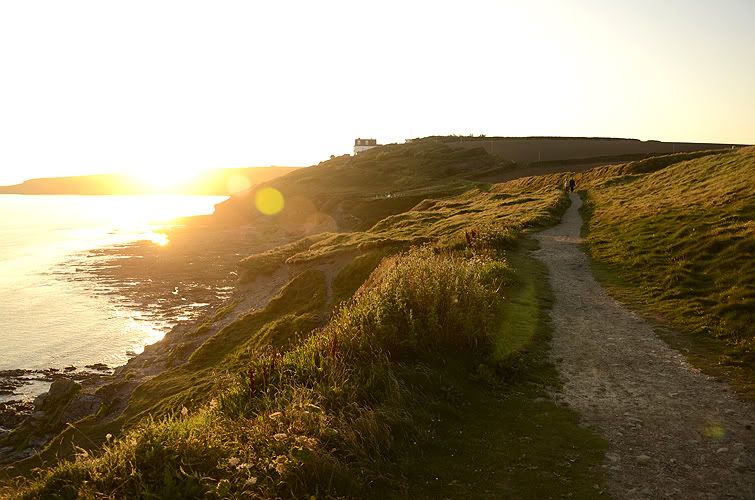 The path towards 'that cove'. Bliss.
Have you been to Porthleven? Did you find this guide helpful or informative at all? Thoughts? Let me know!