The first time I tried this dish was at the
Lugger
restaurant in the cosy fishing village of
Porthleven
in Cornwall. It was an instant hit, and so, a year later, I went about recreating it in my own home, purely by guessing the ingredients and their quantities that this rich and creamy pasta dish necessitates. Obviously, then, this version isn't identical to the one I tried at said Lugger, but I think that's all part of the fun. It's really easy and quick, is cheap, and tastes (nearly) as good as the original. I urge you to give it a go.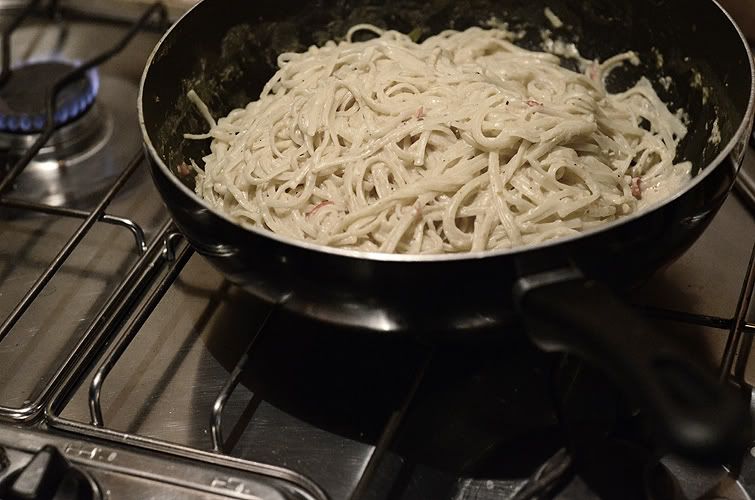 Time:
25 mins (You can do it in 20 or less though)
Cost:
£1.25 per person (approx)
Serves:
2
Ingredients:
- 210g linguine
- 1 x 43g dressed crab meat
- 1 red chilli
- 2 garlic cloves
- 1 lemon
- 100ml single cream
- A sploosh white wine (your choice, I used Echo Valley California Chardonnay)
- Extra virgin olive oil
- Salt and pepper
- Chopped parsley
Method:
1) First of all get a pan of about a litre of salted water on the boil. Be generous with the salt. Put a deep frying pan/wok on a medium heat.
2) Peel and slice the garlic gloves. If, like me, you don't like it too hot, cut the chilli lengthways and remove the top, then get rid of the seeds. Leave them if you do have a preference for extra heat. Chop the chilli small.
3) Once the water is boiling, add the linguine to the saucepan. Add a lug (about 1-2 tbsp) of olive oil to the wok, and chuck in the garlic and chilli.
4) Once the garlic is turning golden, squeeze the juice of half a lemon into the wok, then add the crab meat and mix it in. Add a good sploosh (65ml-ish?) of white wine and then stir in the cream.
5) Once the linguine is cooked, or preferably very nearly cooked, remove from the heat, drain most of the cooking water (reserving a couple of splashes or more) and then add to the wok, with the reserved cooking water.
6) Season to taste with salt and pepper and mix everything together thoroughly.
7) Serve with a salad, or on its own. Garnish with some chopped fresh or dried parsley and a further drizzle of extra virgin olive oil and lemon juice. Indulge.