I have always had a preference for Pancake Day, or Shrove Tuesday, over that of St. Valentine. There could be several reasons for this. Perhaps it is because I make a better pancake than I do a Valentine. Perhaps it is my Dutch heritage. Most of all though, there is something that is just solid and dependable about the humble pancake.
Looking at Valentine's Day, it reminds me of a chocolate fondant. It looks lovely and tastes gorgeous, with its soft sponge and warm indulgent chocolate filling, but it's not particularly strong or stable, is easy to get wrong, and for all its delight it just isn't that healthy. The slightest push and what you thought was a sturdy exterior gives way to goo. Pure deception.
The pancake, on the other hand, is simple to make, hard to get wrong, wholesome and honest. With a pancake you know what you are getting, there are no hidden horrors beneath a smarmy exterior (in this instance; chemicals, additives, e-numbers, et cetera). There are only eggs, flour, milk, and a little butter. You can trust a pancake.
Whilst Valentine's Day is a pink, fluffy and glittering wrap for the first commercial day on our calendars, Pancake Day has humility and simplicity at its core. It is the day before the period fasting that is Lent, and thus signifies restraint and self-discipline.
Nutritionally, I always considered pancakes an unhealthy meal, but on second thoughts this was only because there is a distinct lack of vegetables involved and because my toppings were always generous, buttery, and sugary. If you think of the actual content of the pancake, they don't seem bad at all: milk, flour and eggs appears to me a decent combo of protein and carbs with a little calcium to boot. I'm no nutritionist though.


Pannekoeken met Stroop, Alstublieft
The Dutch love their pancakes, which is possibly responsible for my love of these golden discs of joy. Restaurants dedicated to the stuff is a common sight in Holland, and the only pancake restaurants I know of in London are, funnily enough, part of a chain called
'My Old Dutch'
.
The Dutch like their pancakes big (around 26cm in diameter) and thick, and tend to roll them up once sufficient toppings have been applied. I've never been a massive fan of the traditional English lemon juice and sugar combination, so I've listed my three favourites (and variations thereof) below:
Pannekoeken met Stroop. Simply pancakes with syrup, but it must be the Dutch pancake syrup. Though maple and golden syrup are indeed very desirable, there is something simply superior about the Dutch 'stroop'. This might sound odd, but one thing that is really delicious with syrup in a pancake is fried or grilled bacon. Smoked or unsmoked, streaky or back, it matters not. It will be delicious whatever. Believe me.

Butter & Sugar. Butter on its own is brilliant, but add some sugar and you've got something great. (Whether that be icing, caster or whatever – traditionally in Holland they serve 'poeder suiker' – powder sugar, or icing sugar.) Dust with a little ground cinnamon, and you have a pancake from Elysium.

Chocolate spread. I remember the first time I had this, when I must have been about six years old. I was on a business trip with my Dad in London and it was bitterly cold. There was a stall in a crowded street selling pancakes with filled with Nutella. I will never forget sitting in my Dad's old Skoda (back when Skoda was a byword for 'bad joke' and congestion charges hadn't even been dreamt of), freezing cold, and eating a hot, thick pancake oozing rich chocolate spread. 'Comfort food' does not do it justice.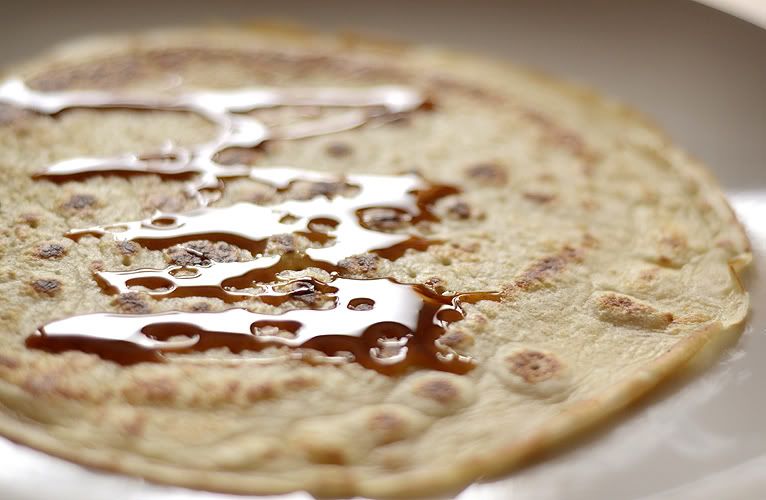 The Recipe
I have made pancakes quite a few times since I have been at university, and have always used James Martin's recipe from his book
Desserts
. It has never failed me, and has always provoked a very positive response from those who have partaken in the consumption of these pancakes.
James' recipe is for
cr

ê

pes of c
ourse, and he suggests that it will make 12 – 16. But we don't want any of that poncey, tissue-paper-thin French lark (which I treat with levels of mistrust akin to that of Valentine's Day). We want decent, thick, wholesome pancakes – of which James' recipe makes 6 20cm ones (
not
620cm ones, just to confirm). So I've doubled the quantity here to allow for 12. (PS – When I say 'thick' I mean around the thickness of a one pound coin.)

Makes 12


Ingredients
250g plain flour
2 good pinches of salt (optional)
2 large eggs
2 tbsp butter, plus extra for frying
600ml milk
Method
Melt the butter. Put the flour and salt in a mixing bowl, then add the egg, melted butter and half the milk. Whisk this mixture until smooth and creamy, then mix in the remaining milk.
Heat a frying pan (approx 20cm) over a high heat and grease with a knob of butter. Ladle the batter in, and tilt to coat the base of the pan, then cook the pancakes for 1-2 minutes on each side, or until golden.
I tend to put the pancakes on a plate and place them in a preheated oven, around 100 – 140oC, to keep them warm until I have used all the batter. Having preheated plates is a very good idea too, as pancakes cool quickly. Reheating pancakes in the microwave is doable, but not reccomended; you lose some of the wonderful texture by doing this.
Serve, and enjoy with your choice of filling. These can be cooked in advance and frozen.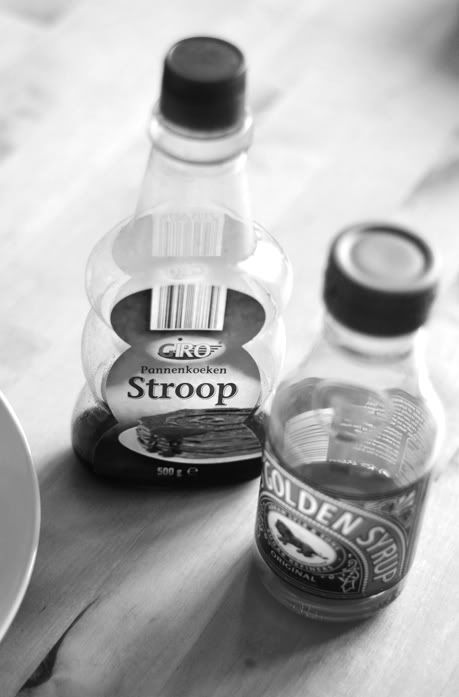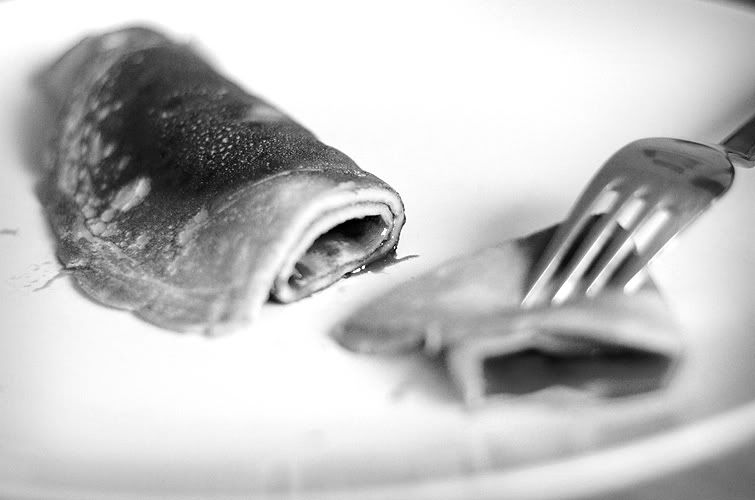 What are your thoughts on the pancake, and indeed, the cr

ê

pe? Agree? Disagree? Do tell! Oh, and please don't take the Valentine's Day opinions too seriously...