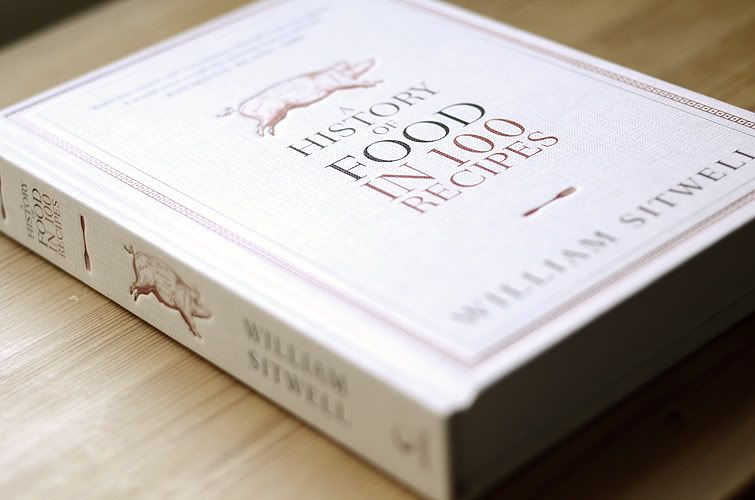 Today marks the release of the book of William Sitwell's
A History of Food in 100 Recipes
. It is a book that I have been eagerly anticipating for many months – since August 2011 to be precise – for several reasons.
"Coming from a family of writers," said Sitwell at the launch of his book last night, "writing a book was something that I had always wanted to do."
"My great great grandfather, Sir George Sitwell" – who wrote notable works such as
The Introduction of The Peacock to Western Gardens
, Sitwell joked – "wrote a book called
The History of the Fork
. When I discovered this I said 'how
dare
he tread on my territory!' But I have included a chapter on the history of the fork nonetheless."
My attention was first drawn to William when in 2010 he presented a wonderfully intriguing and dry-witted investigative programme on the Michelin Star called
'Michelin Stars: The Madness of Perfection'
. I then began to read some of William's articles and found them very enjoyable. Here was a food critic who didn't sniff at humble food, who, even, would prefer a
decent omelette
over something incredibly fancy, expensive and a little bit pointless.
Then last summer I went to do a few weeks of work experience at
Waitrose Kitchen
, the magazine William edits. To my delight, William was in the thick of writing the book when I came and thus employed my services to assist in researching. And so commenced a few weeks of bizarre recipe requests from Sitwell: "Can you phone up this restaurant in Italy; I need a recipe for
Biura
. Here's the number." (Turns out the number took me to an Italian vineyard, not a restaurant, and the recipe he needed was for
Giura
, not
Biura
.)
"Can you find an original Aztec recipe for hot chocolate? I also need a recipe for Manchet bread from around 1066 that involves the use of a hair sieve."
From Zabaglione to the Book of Zhou and Henry VIII's Hippocras Jelly to hot chocolate, It was a surprisingly intense, but immensely rewarding experience. There were a lot of dead ends, but when you struck gold it was fantastic. Working on the book was a privilege, and I was very grateful to attend the launch of the book yesterday evening and finally get my hands on a hard copy.
I read a couple of chapters in the course of the research, and I can safely assure you that it is written in William's classic humorous and convivial style, and makes for a fascinating read that can be easily dipped in and out of. Do
buy a copy
.
You can preview the book on Amazon.