The first thing that caught my eye was the live bee hive on their stand. And then it was the beautiful bottles they use for their oils and vinegars. Finally, my eyes fell on the stunning rosé hue of the
Sweet English Raspberry Vinegar
. Really? It had to be given a go. The taste was every bit as good as the look; sour as a vinegar should be, yet complimented by a delightful sweet raspberry kick.
In some ways it would seem that a bottle of this would be limited in its uses, but on second thoughts it is strangely versatile; it could be used with starters, salads, desserts (simply drizzled over vanilla ice cream would be fantastic) and even drinks.

And even if you're not going to use it very often, it can even be bought in quantities as little as 100ml. If I'm honest, I don't really want to use up my bottle anyway: it just looks too good sat on my desk here next to the computer.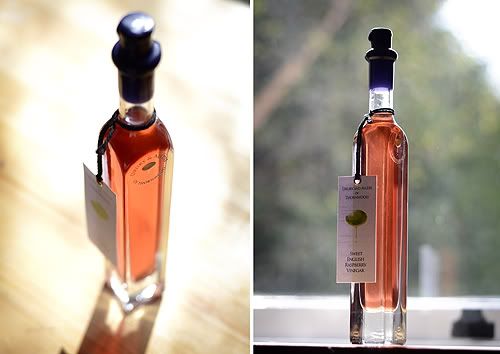 Below, I've added it to a classic mojito recipe. I wasn't sure whether it would work or not, but it turned out rather nicely; it just adds a very subtle fruitiness and boosts the sweet-sour combination that makes the mojito such a refreshing cocktail. If you're just after a classic mojito simply add a little more lime and leave out the raspberry vinegar.
Ingredients
- 3 tsp raspberry vinegar
- 1 lime
- 20 fresh mint leaves + 1 sprig
- 2 – 3 tsp granulated or caster sugar
- A handful of ice
- 65ml white rum
- A splash of sparkling water
Method
Cut the lime into wedges and remove the mint leaves from their stalks.

Put the limes, mint and sugar into a good highball glass and gently mash with a convenient utensil (I used the handle of a rolling pin), to release the flavours.

Add the raspberry vinegar ice and pour in the rum.

Add the sparkling water (to taste) and stir. If you like you can wait until this stage to add the raspberry vinegar, and taste after each tsp to add as much or little as you like.

Garnish with the mint sprig and enjoy!