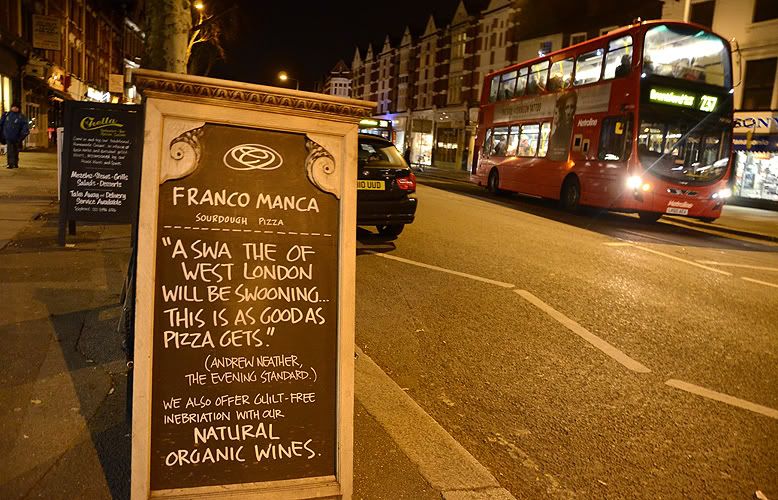 "It had better be a flipping good pizza!" I loudly grumbled, stepping once again into the bitterly freezing night air. Another painful twenty minute walk later and we at last arrived at our destination:
Franco Manca, Chiswick
.
Time and money are always in short supply for the busy student, and as a result I hadn't eaten out in quite a while. After a brief discussion with some friends, we decided it was about time we went out for a good old chomping jaunt again. The question was, where to eat? We had decided we could afford to give up an evening, but the question remained as to where one could indulge in some fine London eating without sacrificing the entirety of one's student loan in the process.
And I wasn't about to go to a large chain restaurant either. But wait, before you accuse me of snobbery of the highest order, I must mention a reason for this: I have only a little time left living in London, so I want to make the most of living in the restaurant capital of the world whilst I can.
The answer to the question presented itself in the form of Franco Manca. This restaurant is widely reputed as serving the best pizza in London, with the Guardian calling it the
"best in Britain"
. And all for a price that puts the big chains to shame. I had heard enough.
The Experience
Franco Manca's Italian approach to food shows through in the décor; it is simplistic, bright and clean with white tiled walls, wooden benches and bright lights. Fittingly, it is not a big restaurant, and it has the convivial atmosphere that the consumption of pizzas somehow attracts. Upon entry we were immediately attended to by a petit Italian woman who pointed us to an empty bench.
We were consistently served by said woman, and her friendly manner was accompanied by a rapid service. She remained calm and polite throughout her visit despite the fact that they were obviously understaffed.
One of the things I liked about Franco Manca was the menu, which doubled as a paper place mat. This might not be revolutionary in itself, but what I enjoyed was the fact that it was littered with little snippets of contextual and background information, such as the source of ingredients and more.
Through this I learned that their wood-burning 'Tuff' brick oven is 'made in Naples by a specialised artisan' and produces staggering temperatures of roughly 500
°C
. Apparently it was originally developed in the 5
th
century BC by Greek settlers.
Nice touch.
The Food
Right, what we're all here for. There are six pizzas on the menu, plus two or three on the specials board, with the cheapest, unbelievably, coming in at £4.50. I decided to go for option four, which involved Gloucester Old Spot Ham (home cured), mozzarella, buffalo ricotta and wild mushrooms. All that for only £6.85. Not bad. I also ordered a glass of red wine (Ottavio Rube Rosso 2010) which was reasonable, too, at £3.30 for a glass. Interestingly it was served in an ordinary glass as opposed to a wine glass – a very explicit statement about their unpretentious 'quality not snobbery' ethic.
In short, the pizza was delicious (for want of a more interesting adjective), and furthermore, it wasn't tomato based (and unless they mention tomato on the menu, the others aren't either). This meant that it was mozzarella and buffalo ricotta based instead, which can only be a good thing. There were a few splashes of tomato sauce here and there, a leaf or two of rocket in the centre, a few pieces of the ham and two varieties of wild mushroom (if I recall correctly).
One of which was the Trumpet of Death, or
black chanterelle
. Sadly, I had a rather bunged-up nose due to a cold, which meant my sense of taste was a little smothered. As a result I didn't enjoy the flavour of those precious mushrooms to their full extent. What I could taste, however, was the amazing sourdough base. Beautifully soft and fresh, it had a delightful flavour of charred smokiness resultant from it being cooked in the wood-fired oven. Adding a drizzle of the olive oil or chilli oil from the table elevated it to new heights. You know your pizza is good when you almost prefer the flavour of the base to the topping. Anyone who dares throw away any crusts here should be tried for criminal damage.
The Value
In terms of value, Franco Manca is nigh-on unbeatable. The best pizza in London, or Britain, even, for well under a tenner? What's that you say? You can even get change out of a fiver? Unbelievable. To put things in perspective, a 40g packet of dried
chanterelles from Sainsbury's costs £5.99. My pizza was less than a pound more. Overall, my bill for the pizza, a glass of wine (and water) and a cappuccino, plus a tip, came to £13.00. Next time a fast food pizza outlet drops a leaflet through your letter box you will laugh.
The Verdict
Although the interior could perhaps be a little more homely, I have nothing but respect for Franco Manca. Despite offering the finest in pizzas this side of Naples, they haven't let rave reviews – and simply being in London – go to their heads and have somehow stuck to their guns and kept prices low, despite the current economic climate. Unpretentious, simplistic, affordable and delicious, Franco Manca deliver the goods that illustrates the true beauty of Italy's
cucina povera
– perfect for
studenti poveri
. Thank you, Giuseppe Mascoli.
Experience: 7/10
Food: 9/10
Value: 10/10
Overall: 26/30

Location: Chiswick, Brixton, Stratford (Westfield)
Price: Cheap
Recommend?: Yes

Have you eaten at Franco Manca? What was your experience?