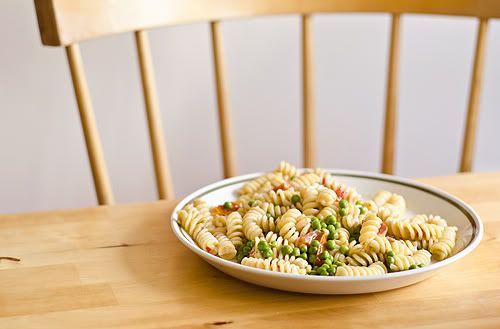 A Store Cupboard Superstar
I don't often find myself out on a limb when it comes to dinner time, as I am quite sad in militarily planning my week's meals in advance. The other week, however, it happened, and I found myself floundering around in the store cupboards, fridge and freezer bemoaning the thought of a very dull dinner. In actuality, I surprised myself with what was available. The dish below is the result. It was a true Oliver-esque case of 'whack in a splash of this, a dollop that and a big knob of bu''er' (actually no butter was involved; I just couldn't resist a sprinkling of Essex-ish) and turned out rather well.
What I like about it is that it's so flexible – almost everything is substitutable. Any type of pasta will do. No peas? Don't panic. No anchovies? Add a few prawns instead. No cream? No worries. It might not taste quite as silky and rich, but will still be ace. In a way, store cupboard cooking, for the student with very limited space at least, is a bit like a watered down MasterChef Invention Test. Look at what's in front of you and, with a bit of creativity, you can have a show-stopping dish.
Ingredients
70g peas

100g dried pasta (penne, fusili, tagliatelle, whatever)

8 anchovy fillets

½ – 1 red chilli

1 clove garlic

6 cherry tomatoes halved

salt and pepper

lemon juice

a splash of double cream

a splash of white wine

extra-virgin olive oil
Method
Get a pan of salted water on the boil and put a frying pan over a medium heat. Halve your tomatoes, peel and chop the clove of garlic and deseed the chilli and chop. Quarter the anchovy fillets.

Add the pasta to the pan of boiling water and cook according to packet instructions. Meanwhile, add a splash of the anchovy oil, or normal olive oil, to the pan and once heated add the garlic, chilli and cherry tomatoes.

After about five minutes, maybe less, just before the garlic is beginning to turn brown and the cherry tomatoes have softened, add the white wine and allow it to reduce. Now add the anchovies, cream and lemon juice, then season to taste with the salt and pepper. Give it all a good stir and taste it – it should be rich and delicious.

Two minutes before the pasta has cooked, add the frozen peas to the pan. Once cooked, drain, reserving a little of the cooking water. Add the anchovy sauce to the pasta and mix together. If it looks a bit dry, add some of the cooking water.

Serve with a drizzle of good quality extra-virgin olive oil, and some basil if you wish.