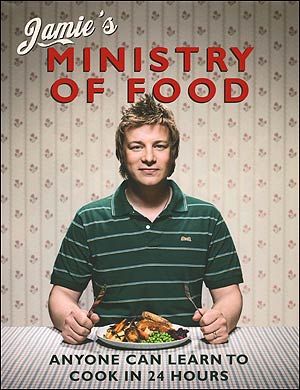 The Concept
For one starting university, beginning life on one's own for the first time, there are a plethora of student cookbooks available. For one reason or another, none of them appealed to me and, snagged by the McKenna-esq tagline of 'Anyone can learn to cook in 24 hours', I ended up with a copy of this book.
Jamie's Ministry of Food
came hand in hand with a television series of the same name that later gave birth to it's American daughter
Jamie's Food Revolution
.
The aim of the book is simple. It is 'to empower you to learn how to cook as quickly and easily as possible' through 'picking a whole load of recipes that we all love to eat and giving you [Jamie's] versions of them.' Nothing unreasonable about that, I'm sure you'll agree.
The Recipes
It is impossible to pronounce a definite judgement here; the recipes I tried (a very good number over my three years of higher education, I'll have you know!) provided a mixed medley of results. The pasta recipes, for example (to which a chapter is devoted) were always simple and easy to follow, though the results in all honesty never blew me away. I never wanted to serve them to anyone else.
Try the
foil-wrapped, oven-baked salmon, green beans and pesto
in the 'quick cooking meat and fish' chapter, however, and you've got a completely different story. In fact, of all the recipes in the book it was this one that really blew me away. Incredibly simple, incredibly quick, it tasted better than anything I'd eaten at a restaurant for months. And it cost a mere fraction of the price.
The highs and lows don't end at flavour though. Simplicity is another issue that seems to vary wildly; whilst you might be able to whack together the pasta and salmon in a jiffy, some of the recipes require big lists of pricey ingredients and require hours of time. I know that Jamie wants to do it all properly, but it somehow seems inappropriate when you're marketing a book at those who have never laid hands on saucepan before.
Layout, Design and Photography
You can't really go wrong with Chris Terry and David Loftus at the helm when it comes to photography, though there is room for improvement here. The food photographs aren't all incredible it has to be said, though the HDR portraits of random people from Rotherham are, er, interesting. On the plus side, almost every recipe is helpfully accompanied by step-by-step (well, not every step) photographs.
The layout and design is fairly standard, which is only a good thing – it is clearly laid out and just works.
The Verdict
It has to be said that there is a staggering variety of recipes crammed into the pages here. Whether you want scrambled eggs or a Thai-green curry, a chicken chow mein stir fry or a beef wellington, a soup or a salad, whatever it is, it's in Jamie's Ministry of Food. Over the extended period I have used this book I have learned a lot from from it's 300-plus pages and have been introduced to some fantastic flavour combinations. On the other hand, the only additional information it provides concerns store cupboard essentials and kitchen equipment – nothing really on kitchen techniques, storing food, shopping for food etc., which you might expect from an introduction to cookery.
It is a good book, though its purpose seems a little uncertain; it doesn't claim (thank goodness) to be the only cookbook you'll ever need, but at the same time I'm not convinced it's really suitable for the absolute beginner. Hmm.
3.5/5
You can buy a copy of the book here.