Day 2 - Square Lakes and Luscious Lamb
Continued from Part 1
First hotel breakfast today, and I was pleasantly surprised by the buffet on offer. The highlight was a square pancake that was made using lots of oil, and finished with a drizzle of honey or syrup. I had seen them in the souks yesterday and was curious. They turned out to be delicious – infinitely preferable to scrambled eggs. The other 'must try' of the foods on offer was fig jam on toast. Had to wait a while for this as one of the other guests stole my toast. It was worth the wait though.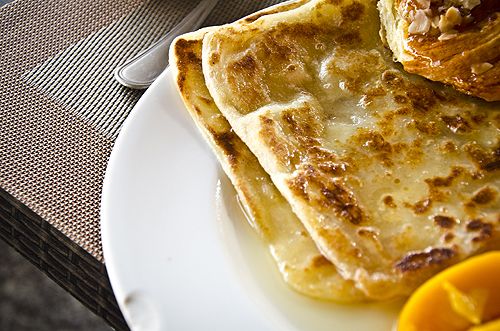 It was a wonderfully warm day again so we were both happy to spend the morning simply swimming and chilling. In the afternoon we headed back into the Medina. Here we bought tickets for the big red double-decker 'bus touristique' and did the circuit of the city. It was interesting to see the modern district ('Ville Nouvelle'), complete with its Pizza Hut, MacDonalds, MANGO and more, as well as the luxury hotel districts. One got the impression that Marrakech is very much trying to build a Dubai-style luxury sector and image akin to that of London and Paris in an attempt to draw in the rich and famous. Ironically, the locals and some guide books describe these parts as 'soulless'; it is the Medina that is the life and soul of the city.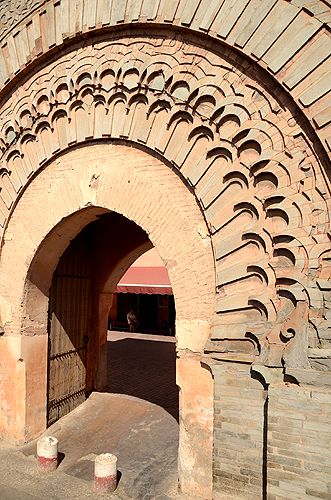 We stopped for a while at the Menara Gardens (olive grove + house + giant, square artificial lake) and then headed back to the centre, where we enjoyed a drink (a luke-warm mango juice, in my case) in one of the cafes that has a roof terrace overlooking the Djemaa el Fna. This provided a great vantage point from which to simply sit back and enjoy watching the square, and looking over the building roofs, dotted with a million satellite dishes, and on into the distant Atlas Mountains. My stomach soon reminded me it was dinner time, and so we headed off into the alleys to look for a suitable place to dine. But not before stopping to purchase a prickly pear from a chap with a wagon load of them. A dirham (about 7p) gets you a pear, peeled and prepared by the helpful chappy behind the wagon. Prickly pears are the fruits which grow on the common cactuses in Morocco. They turned out to be mild, refreshingly watery and pleasant in taste, though full of seeds. Apparently they are very good for upset stomachs too.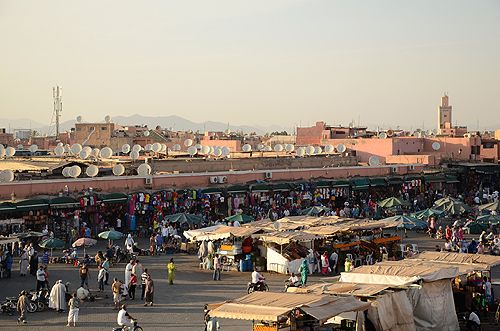 We found a very quaint riad (like a chateux, a large house built on several stories with a central courtyard, they are often converted in restaurants and B&Bs) for dinner, the Jnane Mogador, where we ate al fresco on the roof terrace. I had a harira soup for starters, a Moroccan vegetable soup, made with beans, chickpeas and pasta (I reckon every Moroccan family probably has their own version). It was a very homely, comforting soup. A little squeeze of lime juice from the edge of the plate, however, bought the whole thing alive. Such is the genius of simple cooking.
My main course was a lamb tagine – it would be criminal to go to Morocco and not have one – with prunes and almonds. It was wonderful. Bought to you bubbling with heat, there were great chunks of meltingly soft, tender lamb. This was complimented by sweetness of the prunes and almonds with their soft crunch, and then completed by a sticky reduction at the bottom of the tagine. It was a delightful, authentic meal, and it all came to less than £10 per person. This was what I had come to Morocco for.
Before going home we had to try another Moroccan delicacy, no doubt encouraged if not introduced by the French occupancy in 1900s: pastries. We headed to a patisserie just off the main square, and emerged triumphant, me with a pear tart and what looked like a giant cheese straw, but was actually sugared. Both were fantastic.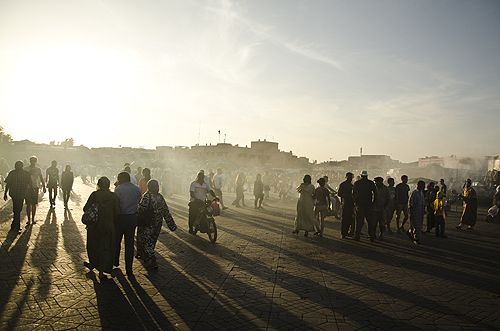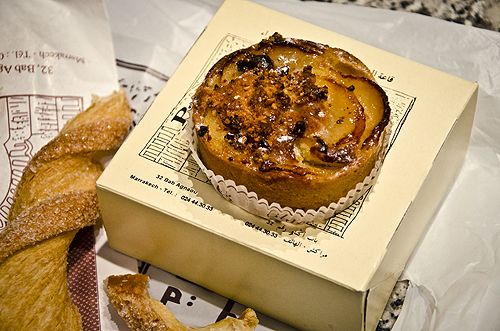 Continue to Part 3