Day 3 - Atlas Exploration and Berber Brews
Continued from Part 2
We met our driver, Kalid, at 09:00 in the hotel foyer. I had been looking forward to today since we arrived in Morocco, and as we hit the roads and drove away from the city, excitement mounted. We were headed in the direction of the Atlas mountains in a 4x4, where we were to be given a tour of part of the mountains, meet some Berber people and more. Kalid kept us chatting as we drove along the long straight roads, past multiple hotels under construction, through flat, arid plains, past many roadside garden centres, and slowly but surely up towards the foot of the mountains.
As we climbed the well-surfaced roads that weave up, over, along and down the mountains, I fired away rapidly with my Nikon, barely switching it off before another breath-taking view came into sight. The mountains are an incredible red colour; hence the colour of the buildings in Marrakech.
After winding up an exceptionally steep off-road track, our first stop was at a small Berber village at the top of one of the peaks. The air was noticeably cooler than in Marrakech, and the sky was an intense blue, in contrast to the hazy one above the city below. We parked up next to a tiny one-classroom school and walked into one of the houses – or, more likely, a series of connected houses. They were cool, dark and bare inside.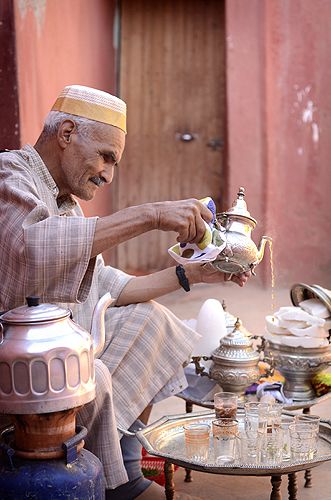 After observing a grain-grinding device (almost like a large pestle and mortar) used for daily breakfast and flour making, the hammam (a steam bath), we walked into a small courtyard. Here we met an elderly Berber man, who showed us how to make traditional mint tea, known amongst Moroccans as 'Moroccan Whisky' (recipe to feature soon...). He was a friendly chap, but didn't speak any English, so Kalid translated.
We sat on stools and chatted, drinking our 'whisky' and eating some homemade nibbles. It turned out that these Berbers are almost entirely self-sufficient, only travelling to a souk (market) once a week at the most. It is a long journey to the souks, and quite a social gathering once they get there.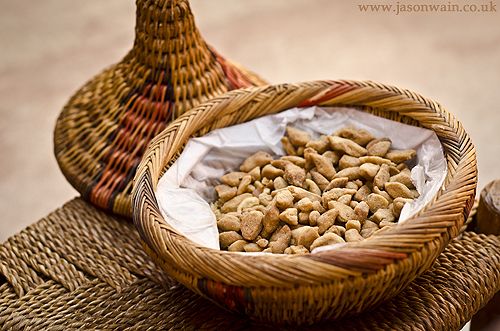 After two delicious but very sweet teas, we tipped the man and said our farewells. We drove on further into the mountains, and with every turn the view seemed to improve. The vegetation thinned and thickened as we went further up and lower down various peaks and valleys. We passed under walnut tress and by many cactus' with their prickly pears. We passed multiple villages built into the sides of the mountains, each one with a distinctive minaret clearly poking up above the rest of the buildings, signifying the local mosque. At one point we passed through a section of pine trees, and the sweet perfume they radiated was so delicious that I wanted to eat it. Kalid and Matt seemed less ecstatic.
Eventually we came to the famous Ourika Valley. It looked like a cross between something out of a Western film and a post global warming/dystopian future version of the Scottish Highlands. Here we stopped before long at a herbal pharmacy, where we were shown around their gardens by a chap in a white lab-coat. It was fascinating, particularly for a foodie, to be shown all the different herbs that were being grown and the various healing and health enhancing properties which they had. He then showed us in to the health shop, explained the purposes and constructions of various products, and kindly offered us some mint tea. No obligation to buy, of course. I ended up buying a bag of ras el hanout (literally 'top of the shop'), a mixture of 35 spices.
We carried on up the valley, through old villages and towns, between the sheer mountains on either side, and always next to the river, with its many restaurants and rickety rope bridges. We stopped at one such village. Here we embarked on an exhilarating mountain climb to a waterfall with another guide. As we climbed higher and higher, the rocks became increasingly steep and slippery, often with a lethal drop to one side. There were plenty of other tourists, though this often made things more dangerous, as you would have to squeeze past a mother in a long dress and head scarf, or a father with a child on his shoulders, as you clambered up a steep rock.
Upon reaching the bottom again in (one piece, incredibly), we stopped at a restaurant for lunch before heading back to the hotel. There were tables and chairs right beside the river, and some even in the river, the idea being that you let the cool water wash over your feet and ankles whilst you eat. We opted for a table in the shade. I had a standard Moroccan salad for starters, though for mains I had a lemon, olive and chicken tagine, which had a wonderful sharpness and was more savoury than the lamb I had experienced the previous night. It was very different, yet still delicious, and what with the setting, it made for a very significant culinary conclusion to our trip.
Conclusion
I had gone to Morocco for a touch of the exotic, a new experience, and, of course, a taste of the cuisine. I was rewarded with all three. The food was wonderful (for want of a better word) though the Moroccan's certainly have a sweet tooth. I do too, which is perhaps why I loved it so much. I got the impression when I was there that the food I was eating was the same that would have been eaten hundreds, if not thousands of years earlier, which is something that can rarely be said, if ever, in England.
But what I love perhaps most of all about Moroccan cuisine is their subtle use of herbs and spices. In Britain, the word 'spicy' has come to mean that which is hot, or consists of a lot of chilli. I feel that this is something of a foul play by diachronic change, that the adjective has come to mean something that it shouldn't. Moroccan food is spicy without ever being hot, it is just the intelligent blend of herbs and spices like cinnamon, cumin, mint and saffron with the likes of dried apricots, almonds and dates which make such beautiful flavours when, for example added to a dish of slow cooked lamb. Genius.
It felt like Matt and I came at an important time in Marrakech's history, too. The growth of the Hivernage and Ville Nouvelle, plus the large building sites for luxury hotels on the city's borders all suggests that before long the Medina, with its souks and the Djemaa el Fna, will soon become completely dwarfed by the drive for modernity and luxury. Perhaps before long many will be visiting Marrakech simply to stay at a luxury resort, play golf and shop for Chanel, Gucci and Burberry, rather than wander the throbbing, mystical alley ways, with their smells and sounds, their tagines and their lamps. They will be trading the experience of prickly pears for Prada, and that would be a tragedy.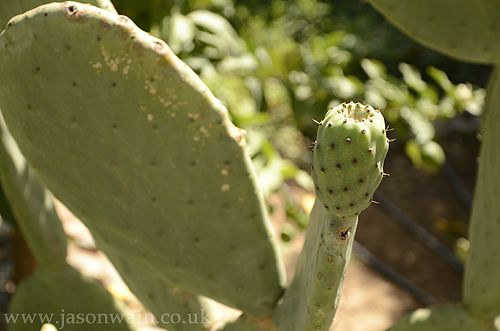 A prickly pear. Easily preferable to Prada.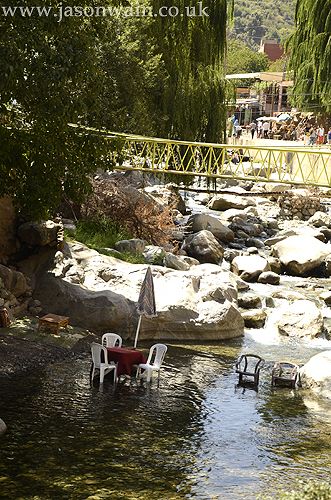 Morocco's answer to the River Cafe...
Continued from Parts 1 & 2.