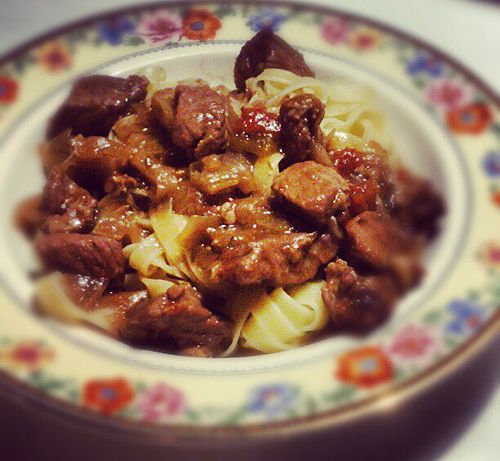 Winter has well and truly set in now. The evidence is inescapable; from the deep cracks in my fingers through to the blisteringly cold, yet stunningly beautiful frosty mornings. It is a season I once deplored for its bleakness and darkness, which has now won my affections through blazing log fires and the Christmas spirit. And, of course, it's food and drink. The season of squashes and game has endeared itself to me very simply through its beautiful flavours.
On a freezing cold Wednesday last week I headed down to my local butcher, close to the historical centre of Tunbridge Wells, the Pantiles. He claims to specialise in game, so I entered the incredibly quaint and charming little shop prepared for my wallet to take a whipping. So imagine my pleasant surprise, then, when I found wild boar shoulder was priced at £8.00 a kilo!
Fast forward a few hours from the ear-searing, runny-nosed march home. It is dark outside and the boar rag
ù
is gently bubbling under the warm glow of the kitchen lights. The recipe is adapted from Rose Prince's braised hare recipe which I had the delight of sampling last year. The deep richness and sweet, gamey hues of the boar are wonderfully balanced when mixed into a bowl of pappardelle or tagliatelle.
Serves: 6
Time: 2 – 2½ hours (only about 30-40 minutes hands-on cooking time)
Ingredients
1kg wild boar meat, cut into fairly small chunks
3 tbsp olive oil
2 onions
2 cloves of garlic
1 glass red wine
2-3 sprigs of rosemary or 1tsp dried
3 tbsp passata or tinned chopped tomatoes
1 litre meat stock
500g pappardelle or tagliatelle
Method
1) Peel and finely chop your onions and garlic. If your butcher hasn't already done it, chop your boar meat into roughly 2cm cubes.
2) Heat the oil in a pan and gently cook the onions and garlic, without browning them, for about five minutes or until soft. Add the boar and cook for five minutes. Then add the red wine and allow it to cook for one minute before adding the rosemary and passata.
3) Add enough stock to cover the meat and bring it to a boil. Reduce the heat to a gentle bubble and cook, partially covered, for an hour and a half to two hours until the meat is tender and falls apart quite easily when cut with a knife. Add more stock to the boar if too much liquid evaporates.
4) About 10 minutes before the boar is cooked, prepare the pasta. Season the rag
ù
and then serve with the pasta.