Possibly my favourite memory of Christmas Day 2012 was the combined cooking efforts of the family and consequent chaos in the kitchen. I thought I'd share some photos of said Christmas Lunch whilst waiting for my next 'proper' blog post. Why? Well it's food, and it was tasty.
Why not?
A starter
clementine, feta and winter leaf salad
. Exquisite.
The turkey. Words aren't necessary.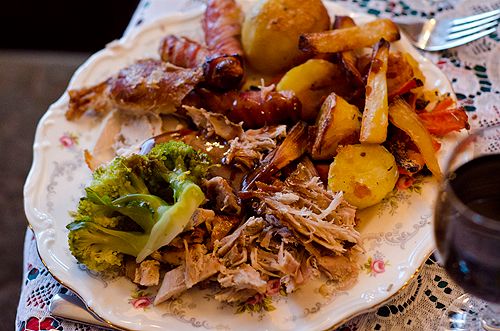 Yes, it looks like a mess. But that's the point, isn't it? A beautifully chaotic combination of roast turkey, pigs in blankets, roast parsnips, carrots and potatoes, stuffing, broccoli, gravy... My stomach rumbles as I type. And it has over 11 months to wait before it gets this again. Help.
A peach pavlova replaced our standard Christmas pudding. Already stuffed to the gunnels with the first two courses, it was a relief to have this lighter white-as-snow-and-just-as-fluffy alternative.
What did you have?