Last Friday I visited Wagamama for the first time. They've been around for a long while, but I'd never been. There was always some excuse, but last week, when I went to catch up with a fellow foodie, it provided the perfect excuse to go and check out my local branch of the self-professed "Japanese Restaurant and Noodle Bar".
The Experience
On a Friday evening Wagamama is heaving with customers. Which is a good sign. It does mean, on the other hand, that one becomes hoarse within minutes if any conversation is to be maintained.
Looking past the crowds of families, teenagers, couples, mates (no demographic is missing from the Wagamama clientèle seemingly, except, perhaps, the elderly) you are faced with a modern, minimalist restaurant, simple and stylishly lit, fitted with rows of solid wooden benches. Again simple and stylish, but not the most comfortable.
The staff were friendly, and we never had to wait too long for anything, whether that was a table to come available or a course to be served. Admittedly I didn't glance at my watch much, but this is usually a good sign.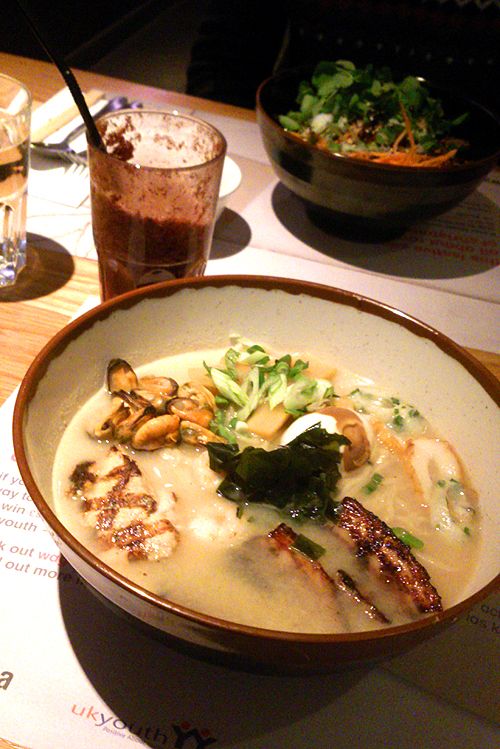 The Food
Wagamama offers a large range of dishes ranging from Japanese to Thai, many of which sound tempting, which makes for difficult choosing. My drink, apple, blueberry and ginger juice arrived first. It is wonderfully frothy, and wholesome; almost more of a smoothie than a juice, and a deep golden brown in colour. It tastes great too – it's that subtle warming hint of ginger I'm a sucker for.
I have often heard whispers of Ramen whenever Japanese cuisine is mentioned, so hence I eventually decide on the Wagamama Ramen, whilst
Morocco
travelling companion Matt goes for Teriyaki Chicken. Before long a large bowl arrives (as in, much larger than your standard cereal bowl) filled to the brim with noodles in a light soup of miso, ginger and more. The dish is also graced with the presence of chicken, barbecued pork, mussels, prawns, pickled ginger, a tea smoked egg, spring onion and an assortment of greenery.
It seemed like a hashmagandy of absolutely anything and everything, and I wasn't sure whether it was precisely that or whether this is actually what the Japanese eat. Either way, I'm not particularly fussed as I am not averse to odd flavour combinations. And, as it turned out, it was a rather scrumptious dish consisting of many levels of flavours and textures. There's that warming ginger again, cutting gently through the light soup, which plays such a good host to the prawns and mussels, which are contrasted so well by the savoury saline crunch of the barbecued pork... you get the idea.
For pudding, it was the apple dumplings with cinnamon sugar and vanilla custard for both of us. Its presentation and description try to fool the unwitting customer that such an English pudding is something straight from the Far East, somewhat like a Met Policeman dressed up as a ninja. All the same, despite the slightly card-ish pastry, the taste is sweet, warm and comforting, and as Matt states "you could eat bowlfuls" of the thin, cream like custard, pale and freckled with vanilla seeds.
The Value
My bill for two courses, a drink and a tip was £22.50. The drink seemed a little expensive at £3.30, though this was no Diet Coke. It was almost a tiny course in itself, an intrinsic part of my meal at Wagamama, rather than just some liquid to wash the solids down with. So it's not the cheapest of the big chains, but the main was a generous size and of good quality, leaving me feeling more than satisfied.
The Verdict
Wagamama is clearly a popular dining destination, and it is easy to see why. It serves fashionable food in a clean and modern environment, opting for a colloquial and convivial setting as opposed to formality, comfort and quietness. The food seems honest, flavoursome and generally pretty good value for money. A great alternative to Pizza Express or Nando's.
Experience: 6/10
Food: 8/10
Value: 8/10